SAP has launched a set of prepacked industry-specific services in an effort to woo users onto its enterprise software platform.
Starting with automotive, energy and utilities, consumer products, and engineering, construction, and operations, the application software giant is hoping to lure customers to a set of preconfigured industry best-practices processes, rather than asking them to adopt its ERP software to their needs.
Peter Maier, SAP president for industries and customer advisory, said: "Many developer years and significant brainpower have gone into creating business best practices for all industries that take care of the business essentials. We make those capabilities available through open APIs and expose the business process and domain models."
SAP Cloud Platform – running on the cloud infrastructure of SAP and hyperscale partners Azure, AWS, GCP and Alibaba – is designed to be an open business and technology platform to support customers' core business in their respective industries.
The move is reminiscent of one from Infor, an ERP rival to SAP which has a history of industry-specific setups going back a decade. It has ERP systems tailored for the fashion industry and even dairy manufacturing. Koch Industries completed its acquisition of Infor in April this year.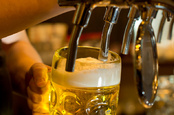 Keg-xistential issues: Fullers pours away £10m Infor ERP system after selling brewing business
READ MORE
While the launch of SAP's Industry Cloud may be a play against Infor, it could also be a recognition that many customers have found the upgrade to enterprise vendor's in-memory platform, S/4HANA difficult to swallow.
Although its 2019 results showed SAP had added around 1,200 S/4HANA customers in the final quarter – taking total adoption to more than 13,800 customers, up 24 per cent year-over-year – it has still seen sluggish adoption of such a vital pillar of SAP's strategy.
For example, in its annual member survey published in December last year, the UK and Ireland SAP User Group (UKISUG) found that 58 per cent of the 467 organisations it questioned did not intend to upgrade to S/4HANA in the next two years, while 27 per cent said they will not upgrade in the next three years.
Rob Moore, business intelligence systems manager at industrial engineering firm Edwards, said at the time that the change management required to move to S/4HANA was making the case for migration difficult to justify.
With a set of industry-specific solutions and pre-baked processes, SAP is trying to make the move to the new platform that little bit easier.
Also at its annual SapphireNow jamboree, which got off to a stammering start yesterday, SAP has launched analytical and transactional capabilities built into its enterprise applications designed to help customers understand and minimise the greenhouse gas footprint of their products and operations along their value chains. Industry 4.0 and supply chain integration were also among its product news. ®