This article is more than 1 year old
Splunk to junk masters and slaves once a committee figures out replacements
Plus: Google guide rejects 'ableist language' such as 'sanity check' – and others wonder if 'blocklists' could offend ex-Soviet nations
Splunk has joined the ranks of software makers pledging to remove objectionable terms like "master" and "slave" from their code.
As detailed in a post today by senior veep for cloud and chief product officer Sendur Sellakumar, a registration-walled post titled "Change the terms 'Master' and 'Slave' in indexer clustering and licensing" popped up two weeks ago in the Splunk forums.
Just because these terms have been part of our industry vernacular for so long doesn't make them any less offensive
"This post received upvotes faster than any I can remember, for good reason," Sellakumar said, adding: "We're addressing this issue as fast as we can, and will replace the terms with ones that are neutral, inoffensive and, in fact, more descriptive of the meaning."
"I'm a computer science major, and I can tell you that software engineers and technologists learn these terms in the first year of college," Sellakumar continued. "They are ingrained in the way we talk about technology, such as in the domains of distributed systems and network security. We can – and should – find better terms that remove unconscious bias from our work. Just because these terms have been part of our industry vernacular for so long doesn't make them any less offensive."
Splunk has already started the process of deciding on terms to replace "whitelist" and "blacklist", and also created "a working group of people from across the organization to develop additional recommendations, guidelines and procedures to identify and replace biased language and to prevent other instances from happening in the future."
Similar discussions are going on around the industry.
Google has created an "inclusive documentation guide" that suggests replacing "problematic ableist language" like "crazy outliers" and "crippling" a service with "baffling outliers" and "slows down," respectively. Similarly, "sanity check" is objectionable when "a final check for completeness and clarity" is more inclusive.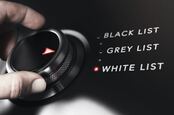 Developers renew push to get rid of objectionable code terms to make 'the world a tiny bit more welcoming'
READ MORE
The web ad giant also wants to replace acronyms such as the cluster-management technique STONITH – Shoot The Other Node In The Head – with less-violent terminology.
An active debate in the OpenSSL community is considering how to do away with "master" and even whether "whitespace" could be replaced with "blanks". The Go programming language community is discussing similar issues, and the conversation has pondered whether replacing "blacklist" with "blocklist" might be offensive to those who reside in the former Eastern Bloc of nations.
A final footnote: the forum post that set Splunk thinking about addressing its loaded language may have prompted an unusually swift reaction, but the forums' most-voted-on recent post is one that calls for the company to develop a Universal Forwarder for 64-bit Armv8. That post has generated 928 votes, compared to 696 for the one on replacing master and slave. ®