This article is more than 1 year old
US govt: Huawei is a national security risk and a menace, except, you know, when we need it for 5G standards work
Commerce Department changes rules because... something, something... innovation
The US Commerce Department has confirmed it will publish a rule change to its crackdown on Huawei that will allow US companies to work with the Chinese equipment maker on 5G standards. And artificial intelligence. And autonomous vehicles.
The rule has already been approved, and is due to be published in the Federal Register on Tuesday, according to Reuters. It comes despite a crackdown on Huawei last year that cited national security concerns, and which made it difficult for the Middle Kingdom giant to sell its network infrastructure gear within America, work with US companies, and use American-invented technology.
Despite the blockade, and occasional patriotic chest-thumping by White House officials, the US government continues to maintain some exemptions to its own ban that allows certain American organizations – such as Microsoft and not Google – to continue doing business with Huawei and other Chinese vendors, such as supplying parts and software. The exemption has to be renewed every three months, and is currently on its sixth uninterrupted iteration.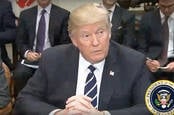 Donald Trump extends ban on Huawei, ZTE telecoms kit in US companies to May 2021
READ MORE
That degree of self-interest is also behind the new rule. The ban had caused some US companies to back away from the standard setting bodies where Huawei plays an active role in order to stick to the law. But those businesses have been at pains to point out to the Commerce Department that walking away from standard-setting bodies, especially when it comes to the next generation of technologies including 5G, artificial intelligence, and autonomous vehicles is the equivalent of shooting yourself in the foot.
And so, while Huawei continues to represent a constant threat to the security of the United States, at least according to the executive order and official line, it seems that the threat diminishes as soon as the economic well-being of American corporations comes under threat.
Commerce secretary Wilbur Ross managed to successfully convey this struggle between absolutism and business realities in an official statement. "The United States will not cede leadership in global innovation," he noted. "The department is committed to protecting US national security and foreign policy interests by encouraging US industry to fully engage and advocate for US technologies to become international standards."
Which makes perfect sense. Because we have always been at war with Eurasia. ®