The bork on the sign goes round and round, round and round, round and round
Try to wrap your head around this fault
Bork!Bork!Bork! Bork comes in all shapes and sizes. Rectangular, square or blue. Sometimes it comes in a cylinder, as shown in these snaps taken earlier this month by a Register reader in Auckland, New Zealand.
Because this is very much a wraparound example of the breed, we have included some additional views of the borkitude for purposes of diagnosis.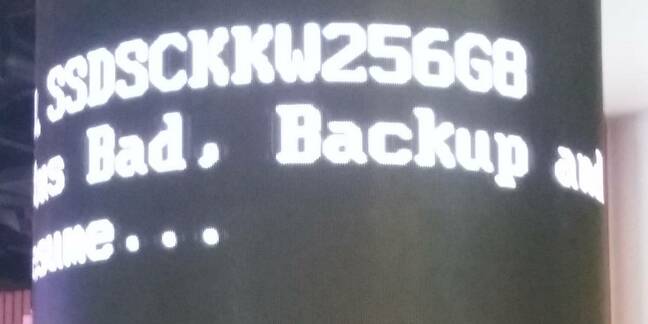 To our amateur eye, it looks like the Intel SSD in the afflicted kit is on the way out. S.M.A.R.T. likely stands for Self-Monitoring, Analysis and Reporting Technology rather than the Specific, Measurable, Achievable, Realistic and Timely goals so beloved of HR personnel with little to do other than hire expensively pointless consultants.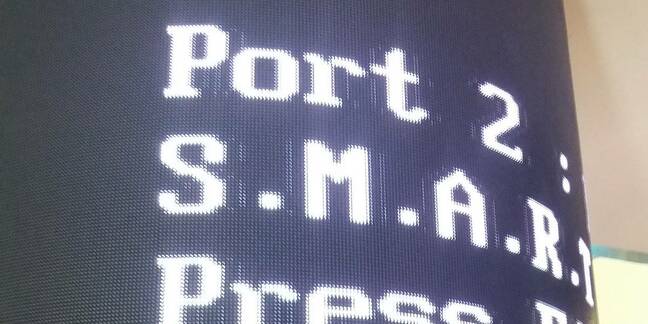 Our reader, Alan, who was on his way back to the UK (and so not responsible for the recent flurry of pandemic reporting in the formerly virus-free country), told us that the pillar (beside a closed currency exchange) was about a metre in diameter and so required a bit of a walkaround in order to take in its full glory.
Sadly, there was no keyboard accessible on which to hit F1 but really, that SSD probably needs a little bit of attention before its usual duties of keeping passengers informed/slinging ads (one or the other) can be resumed.
Digital signage on pillars is quite the thing nowadays as brands target customers seeking respite from garish screens on walls. LG, for example, will happily sell a 55" curved unit that can be bolted together with other screens to form circles of crud content.
Sadly, it looks like whatever is driving the screens in this part of Auckland International Airport is having a very bad day indeed and we wish it the speediest of recoveries. And a new SSD.
With New Zealand seeming to get one thing right while large chunks of the world continue to flounder, it is perhaps reassuring that the Kiwis are not immune to the dread hand of bork.
Seen some signage misbehaving? Or got a BSOD when what you wanted was a burger? Send an email to the Bork desk at El Reg for your chance to submit the sight to the hall of shame. ®