Come for the cloud apps, stay for the ERP? SAP drills into Industry Cloud platform, its latest expansion play
We can't say 'You have to upgrade or nothing' because people will say: 'Well in that case it is nothing'
SAP CEO Christian Klein has admitted the vendor is launching industry-specific applications partly in the hope of luring more customers onto its core ERP platform.
On a call during SAP's virtual shindig SapphireNow, Klein said the decision to bring forward applications for certain verticals is to drive sales from those wanting a "solution" specific to their industry. But it may also drive interest in the underlying ERP, he said.
"The Industry Cloud can also help ... push [prospects] into our ERP because then customers [are] seeing they can do more with [our] ERP in conjunction with these industry processes... I see this [as] a winning strategy," he told analysts and the press.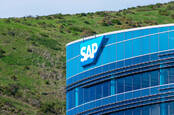 A fête worse than death: After struggling to connect into SAP's SapphireNow online shindig, we were all 'rewarded' with a Sting concert
READ MORE
SAP said the underlying ERP system for its Industry Cloud – which it outlined yesterday – would be S/4HANA, but competitors could choose to enable their ERP systems for SAP's Industry Cloud by supporting SAP's OpenBusiness Data Model, Open Business Process Model and Open Business APIs.
Some 25 industries are being targeted by SAP with an application built for them. But SAP is not attempting to build industry-specific applications alone, Klein added.
"We are now going out and [saying] we [can support] 25 industries... This is nuts we can never do that! So I told our industry heads to come back with partners. So Industry Cloud is a big part [of it] also, [as is] going together with partners and there's nothing wrong with that. Actually, I like it a lot," he said.
'You almost need a PhD in SAP before you can see what they are actually offering'
Paul Saunders, Gartner senior research director, said the Industry Cloud strategy was needed, but also that it is adding to what is becoming a confusing portfolio of products for the enterprise software firm.
"Is it different from S/4HANA Cloud, from SAP Enterprise Cloud, or from SAP Cloud Platform? You almost need a PhD in SAP before you can see what they are actually offering."
As a platform for SAP and partners to build industry solutions, it was a good idea in principle, he added with a caveat. "It is another case of SAP having great ideas, but they can kind of confuse themselves as much as their customers when they launch them," Saunders said.
This is also the case with SAP's line-of-business applications, which include CRM, expense management and customer experience, acquired during a multibillion-dollar buying spree during the tenure of former CEO Bill McDermott, who left the company in October last year and is now top dog at ServiceNow.
Klein said SAP is not looking to rewrite the code base for these applications but is in the process of unifying data models and user experience.
"For customers, is it most important that they have the same programming language? No, but what is very important is having the same data model that [is] using the same businesses services, so these processes can work together, not only pulling data from left to right. You don't want to work in four screens within one business process, no matter how many apps [are] below business processes. These are the integration qualities we define: 50 per cent of these integration qualities are already delivered for all of our cloud products around the core, and by the end of the year, it will be 90 per cent."
Enterprising types
Integrating line-of-business applications is all well and good, but SAP put the E in ERP promising a business-wide view of activity. On that front, upgrades to the all-singing all-in-memory S/4HANA platform has been sluggish to say the least.
Klein said there was a reason for that, and claimed that in any case, things are improving.
"We see a huge traction in S/4HANA, we now have over 14,000 customers. Of course, [we] also get the question, 'Why is this not going faster?' In all fairness, the customers are doing a business transformation. It is not only about shifting to the cloud, because SAP is actually [at] the heart of any business transformation of our customers," he said.
Duncan Jones, VP and principal analyst at Forrester, said SAP's extension of its support deadline for its Business Suite 7 (BS7) ERP suite, the iteration prior to S/4HANA – from 2025 to 2027 – was a tacit admission that customers were happy with their current implementations and SAP would need to grow revenue by selling around the core product.
"The extended deadline is recognising that actually some customers are very happy. Their growth and transformation comes in other ways. SAP is adopting the right strategy, to try and pull people forward at their own pace, but not say, 'You have to upgrade or nothing' because people are saying 'Well in that case it is nothing'," Jones said.
Klein came across more coherently in the video call Q&A than the rather staged and stilted keynote earlier in the week. He cuts a different figure to his predecessor, Bill McDermott, who would turn any question into an invitation for a sales pitch.
In Klein's top team, which includes CTO Juergen Mueller and Thomas Saueressig, who leads product engineering, he has a strong group, according to Gartner's Saunders. We'll just have to see if it is strong enough to pull together the disparate bag of applications and platforms McDermott has left behind. ®