This article is more than 1 year old
We cross now live to Oracle. Mr Ellison, any thoughts? 'Autonomous self-driving computers eliminate human labor, eliminate human error'
Database giant's Q4 earnings call was quite the ride amid virus-hit revenues
Oracle shares slipped in after-hours trading as the database giant reported fiscal fourth quarter results weighed down by the global coronavirus pandemic.
The company delivered revenues of $10.4bn for its fiscal Q4 – the three months to May 31 – down six per cent year-on-year. Analysts on average had been looking for something closer to $10.67bn. For its 2020 fiscal full-year, total revenue retreated to $39.1bn, down one per cent compared to FY 2019.
In terms of earnings per share for the quarter, that translates to $0.99 (GAAP), up three per cent compared to fiscal Q4 a year ago. Full-year EPS for 2020 came to $3.08 (GAAP), up nine per cent from the previous year.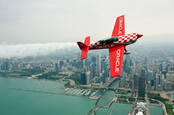 Oracle to take IT out of the equation for HR, ship prebuilt metrics, KPIs to analyse carbon-based lifeforms
READ MORE
"Our overall business did remarkably well considering the pandemic, but our results would have been even better except for customers in the hardest-hit industries that we serve such as hospitality, retail, and transportation postponing some of their purchases," said CEO Safra Catz in a statement.
Fourth-quarter operating income came to $4.3bn, up one per cent year-on-year, and Q4 operating margin was 41 per cent. This amounted to profits of $3.1bn for the quarter. Full-year operating income came to $13.9bn, up three per cent year-on-year, and operating margin was 36 per cent. Annual profits of $10.1bn will keep Larry in jets and private islands for a while.
The IT goliath's four major business lines performed as follows:
| Business | Q4 | FY2020 | Q4 gain/loss | FY2020 gain/loss |
| --- | --- | --- | --- | --- |
| Cloud services and license support | $6.8bn | $28bn | +1 per cent | +3 per cent |
| Cloud license and on-premise license | $2bn | $5.1bn | -22 per cent | -12 per cent |
| Hardware | $901m | $3.4bn | -9 per cent | -7 per cent |
| Services | $735m | $3.1bn | -11 per cent | -4 per cent |
On the company's conference call for investors, Catz suggested that revenue was more delayed than lost.
"As the quarter progressed, we saw drop off in deals, especially in industries, most affected by the pandemic," she said. "As countries begin reopening their economies, many of these discussions have already resumed. Since these were not losses to competitors, we believe that most of this business will ultimately be booked."
Big Red co-founder, executive chairman and CTO Larry Ellison followed Catz with a review of new customers and a reprise of his vision of technical infrastructure unpolluted by people, in the form of the Oracle Autonomous Database.
"Autonomous self-driving computer systems eliminate human labor and eliminate human error. There is nothing for humans to learn and nothing for humans to do," said Ellison.
There is nothing for humans to learn and nothing for humans to do
"Eliminating human labor dramatically lowers the cost of running an autonomous system. Eliminating human error dramatically increases data security and system reliability. All of the big data losses at Amazon were caused by human error. There is no opportunity for any human error if your data is stored in an Oracle autonomous system."
Ellison also took the opportunity to disparage not just arch-enemy Amazon but also competitor SAP. Claiming Big Red had cloud ERP )enterprise resource planning) leadership, with 7,100 Fusion customers and 22,000 NetSuite customers, he said, "We have taken a huge lead in the cloud ERP market, because our largest competitor SAP never rewrote their ERP applications for the cloud."
Catz and Ellison both suggested Oracle's prospects should improve at a more rapid rate because its growing businesses, namely cloud services, are making gains faster than its dwindling businesses are declining.
"Our profitable businesses are getting bigger while our less profitable businesses are getting smaller," said Ellison. "We don't care that our Sparc servers are selling less than when we first bought Sun." ®