Qualcomm is bringing its 5G connectivity to its mid-range 600-series of Snapdragons for the first time.
That means the next generation of modest smartphones powered by these system-on-chips can potentially tap into 5G networks - if available - bringing high-speed mobile broadband to more than just owners of fancy top-end expensive handhelds. Past devices that have used 600-series Snapdragons include the Samsung Galaxy A70, Moto One Pro, Google Pixel 3a XL, Vivo V17 Pro, Oppo R17, and you get the idea.
Specifically, today Qualcomm will unveil the Snapdragon 690, an 8nm component fabricated by Samsung with the part number SM6350.
The silicon's Kryo 560 processing unit features eight 64-bit Armv8-compatible CPU cores: two performance cores for heavy work, based on Arm's Cortex-A77 designs and clocked up to 2GHz, and six smaller Cortex-A55-based cores clocked up to 1.7GHz for running everything else. The SoC can handle up to 8GB of 1866MHz LPDDR4x RAM through two 16-bit channels.
Then there's its Adreno 619L GPU that supports OpenGL ES 3.2, OpenCL 2.0 FP, Vulkan 1.1, and DirectX 12 as well as 4K HDR10 Perceptual Quantizer and Hybrid Log Gamma video playback, an in-device FHD+ touchscreen display at 120Hz, and an external QHD display at 60Hz. There's a Hexagon 692 unit for handling vector math operations and, like the GPU, accelerates AI workloads in applications, such as real-time image filters. It can capture 10-bit-color-per-pixel 4K HDR video, and 192 megapixel photos, we're told.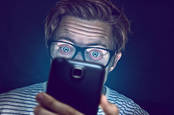 Fragging hell: Qualcomm rolls out mid-tier 5G gaming chipset
READ MORE
The Sub-6GHz 5G connectivity comes from an attached Snapdragon X51 5G Modem-RF chipset. To be clear, the modem isn't integrated into the system-on-chip; Qualcomm's added the necessary electronics to pair the package with an integrated modem-antenna chip on the side. The X51, we're told, supports 5G standalone (SA) and non-standalone (NSA) modes as well as FDD and TDD, and multi-SIM devices. What's that mean in real-world numbers? Up to 2.5Gbps down with 5G or 1.2Gbps with 4G/LTE, and up to 660Mbps up (5G) and 210Mbps (4G/LTE), best case scenario.
We also note that mmWave 5G Qualy is so proud of will remain, for now, the reserve of the higher-end Snapdragon families.
And then there's the usual connectivity of Bluetooth 5.1, NFC, USB-C, GPS, and 2.4 and 5GHz Wi-Fi 6, plus fingerprint reading and acceleration for voice assistants, and so on. There are many more bits and bytes besides; check out the Snapdragon page for the full specs.
The 690 follows on from the 675 as found in the Motorola One Hyper. It's claimed by Qualy that the 690 is up to 20 per cent faster, CPU-wise, than the 675, and renders graphics up to 60 per cent faster, and runs AI code more than 70 per cent faster.
Qualcomm has paired 5G with its other Snapdragons, such as the 765/765G that integrates the X52 modem and the 865 that pairs with the X55.
When can we buy gear using this system-on-chip? "We expect commercial devices based on the Snapdragon 690 to appear in devices in the second half of 2020," a spokesperson told us. HMD Global, LG Electronics, Motorola, SHARP, TCL, and Wingtech are said to be in line to launch SD690-based gadgets. ®