This article is more than 1 year old
The incumbent President of the United States of America ran now-banned Facebook ads loaded with Nazi references
We wanted flying cars and space travel for 2020 but instead we got re-runs of fascist propaganda
Facebook has removed online ads and posts by President Trump's reelection campaign for violating its rules prohibiting "organized hate," a step the ad biz has been reluctant to take.
The ads, which are said to have been circulating on Facebook since June 3, 2020, claimed that dangerous mobs of left-wing groups are running riot, and urged ad viewers to add their names to a marketing list and donate money to the Trump campaign.
According to Media Matters, the ads were revised on June 17, 2020, to include a red triangle symbol that was used by the Nazis to identify political prisoners in concentration camps. The watchdog group says the Trump campaign ran 88 of these ads yesterday.
The Anti-Defamation League identifies 88 as a hate symbol. It's used to refer to the eighth letter of the Latin alphabet, "H," which repeated twice can stand for "Heil Hitler." What's more, the first sentence in these ads is 14 words, also a white supremacist dogwhistle. Quite a coincidence it seems.
"We removed these posts and ads for violating our policy against organized hate," a Facebook spokesperson said in an email to The Register. "Our policy prohibits using a banned hate group's symbol to identify political prisoners without the context that condemns or discusses the symbol."
The President of the United States is campaigning for reelection using a Nazi concentration camp symbol.

Nazis used the red triangle to mark political prisoners and people who rescued Jews.

Trump & the RNC are using it to smear millions of protestors.

Their masks are off. pic.twitter.com/UzmzDaRBup

— Bend the Arc: Jewish Action (@jewishaction) June 18, 2020
This is the first time Trump campaign content has been removed as hate speech. Facebook has previously removed Trump ads for policy violations, such as violating its census interference policy, with Zuckerberg and President Trump apparently in close coordination over the matter.
But the ad biz hasn't been enthusiastic about applying its rules to political content, going so far as to give politicians a license to lie. Its policy states, "Posts and ads from politicians are generally not subjected to fact-checking."
CEO Mark Zuckerberg has repeatedly defended this stance, which perhaps is not surprising given the amount Trump and his allies spend on Facebook to promote their agenda. Together, Donald J. Trump for President, Inc. and the Trump Make America Great Again Committee have spent over $18m on Facebook ads between January, 2020 and June 15, 2020, according to Facebook.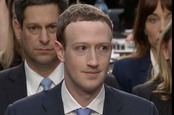 Staff in a huff, personal call with Trump, picking fights with Twitter, upsetting civil-rights groups – a week in the life of Facebook's Zuckerberg
READ MORE
Facebook has allowed Trump and other Republicans to run thousands of ads that have been criticized for fearmongering and falsehoods, alongside hundreds of ads making false claims about voter fraud.
But Facebook, perhaps, has been emboldened by Twitter's decision to flag Trump tweets, something the short message service had resisted until recently, or by Trump's executive order to look for ways to weaken Section 230 immunity for internet services and the subsequent action yesterday by the Justice Department and legislators to limit legal protections.
Slamming down on scraping
In a separate policy clampdown, Facebook on Thursday filed two lawsuits, one in the US and the other in Spain, against individuals alleged to be using unauthorized software in violation of the company's terms of service.
In a blog post, Jessica Romero, director of platform enforcement and litigation, for the data gathering biz, said the defendant in the US lawsuit, Mohammad Zaghar of Morocco, operated a data scraping website where Facebook users could enter their Facebook credentials and have the site collect data not normally available for download, such as the email address, mobile phone number, gender, and date of birth of "friends."
The complaint alleges Zaghar "collected the data by using self-compromised accounts and a computer program to control a network of computers or "bots," which pretended to be an Android device connected to the official Facebook mobile app."
The harvested data, it's claimed, was stored at Zaghar's website massroot8.com. Such details are commonly used for marketing purposes, specifically lead generation, price competition, and e-commerce optimization.
The complaint against Zaghar accuses him of collecting approximately 5,500 Facebook users' login credentials between April 23, 2020 to May 6, 2020 and scraping data from those accounts. It also claims he has been engaged in such activities for years.
Such information was easily accessible to Facebook developers before the Cambridge Analytica scandal forced the ad biz to rethink programmatic access to its platform and data hoard.
The lawsuit in Spain accused MGP25 Cyberint Services and its founder of distributing software for generating fake "likes" and comments on Instagram.
Facebook declined to make a copy of the complaint filed in Spain available, stating that the lawsuit is not public and the court there does not make it available. ®
PS: More worries for Trump this week: a tell-all book by a former advisor this month claimed the President once said journalists should be "executed," didn't know Britain was a nuclear power, begged China's leaders for help getting reelected, and more.