This article is more than 1 year old
If Fairphone can support a 5-year-old handset, the other vendors could too. Right?
Biz model isn't good for consumers or the environment, but Google holds all the cards for Android
Comment Fairphone is a tiny player in the smartphone space. Unusually, it competes on the basis of its environmental credentials, touting an ethical supply chain and modular components designed to be easily replaced by end users. So it shouldn't be a surprise that the Fairphone 2 – first released in 2015 – still receives software updates*.
Except, it kind of is. When placed against the fragmented Android world, where vital software updates are issued slowly and inconsistently, Fairphone sticks out like a sore thumb. With a few exceptions (namely Nokia and Google), most vendors stop supporting devices after just two years on the market, with some choosing to call time sooner.
Even the Android One programme, which promises two OS upgrades and three years of patches, doesn't quite compare to Fairphone's performance.
Looking at the data, it becomes obvious that it doesn't have to be this way. Fairphone's last annual report [PDF] shows revenues of €11.6m in 2017. That could easily be a rounding error for its rivals. It claims to have sold around 100,000 phones, and says it has a team of just 70. In short, it's a blip on the smartphone landscape.
And yet, when it comes to long-term support, Fairphone is vastly outperforming better-resourced rivals. How does that make sense? It doesn't, obviously. At least from a purely economic perspective.
Of course, it helps that Fairphone isn't exactly what you'd call a conventional phone vendor. For starters, it's a social enterprise with an ethos that explicitly rebukes planned obsolescence. Their entire raison d'être emphasises long-term use, rather than short-term sales figures.
And that motivation cuts both ways. If your priority is selling units, rather than reducing the amount of working tech sent to the landfill, you have an incentive to artificially reduce the lifespan of a product. That incentive is most keenly apparent when you consider that most budget phones have wafer-thin margins.
According to Lei Jun, Xiaomi CEO and co-founder, the margin on its phones is around 8-9 per cent. Unsurprisingly, Xiaomi ranks poorly on AOSMark's scoreboard of Android manufacturers by updates served (below).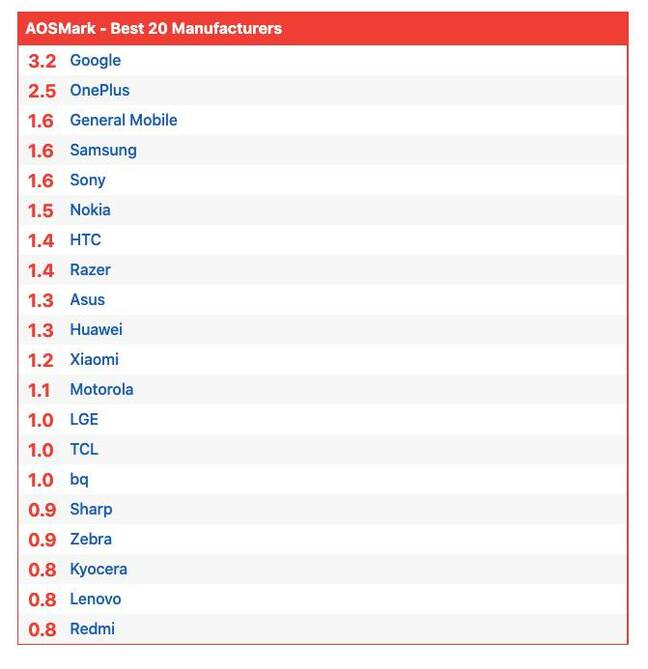 Ultimately, it's in the best interest of phone manufacturers for people to buy phones at regular intervals, rather than hang on to them for as long as possible. That business model isn't really in the best interests of consumers or, for that matter, the environment.
To its credit, Google is trying to simplify the process of delivering Android updates for vendors. This process started years ago, with the Chocolate Factory gradually decoupling system components from the core operating system, allowing them to be updated via the Google Play Store, rather than an OTA upgrade.
That process should get easier still with Android 11, where Google has mandated that new phones support A/B partitions, which are a core part of the firm's updates strategy. Reports from 2018 suggest it's also forcing certain manufacturers to support their flagship devices for a minimum of two years.
But it's not enough. As the developer of Android, Google is in a position of immense power and influence. There's no reason why it couldn't contractually compel any vendor that licenses Google Mobile Services (which includes the Google Play Store) to support their devices for a minimum period.
In the end, consumers have an obligation to vote with their wallet. By purchasing Android One devices, or phones from vendors like Fairphone, they can break this unholy cycle of planned obsolescence.
The environment – and their bank balances – will thank them. ®
* The FairPhone 2 is receiving an upgrade to Android 9 Pie. While this isn't the latest and greatest, it's still officially supported by Google. The phone first launched with Android 5 Lollipop.