HPE chief Neri: I've got COVID-19 and am staying home for the next fortnight
It's remote business as usual though, insists firm
---
The chief exec of Hewlett Packard Enterprise has tested positive for coronavirus, he revealed today – adding to the firm's recent list of woes.
Antonio Neri said in a statement posted to LinkedIn in the early hours of this morning: "Yesterday I tested positive for COVID-19. The good news is, I feel much better already and plan to proceed with business as usual while I quarantine from home."
A company spokeswoman echoed Neri's words, saying that the CEO would be "following self-quarantine protocols for the next 14 days."
Neri's sickness and confinement does not come at a good time for HPE: its Q2 FY2020 results [PDF] revealed a 16 per cent year-on-year decline in revenues, falling short of analysts' expectations by $300m, with sales down across all major segments. The firm reported a net loss of $821m in the quarter, prompting an across-the-board cost-cutting exercise that will see Neri himself and his senior lieutenants taking a 25 per cent base salary cut for the rest of the fiscal year.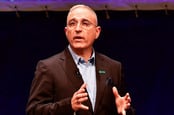 HPE's Black Thursday: Staff face pay cuts or the ax, office closures to save $1bn+ after coronavirus slams IT titan
READ MORE
Staff headcount reductions are also high on the agenda, with a mixture of job cuts, unpaid leave and a freeze on promotions and payrises in the pipeline, as we reported.
On top of these issues, key execs have departed HPE over the past couple of months. Phil Davis, one-time global sales chief and widely regarded as HPE's second-in-command, quit abruptly in April to head up AWS' APAC operations, drawing on his HPE experience as president of hybrid IT. Chief techie Mark Potter will retire this summer, according to Neri; Potter's predecessor's retirement lasted as long as it took for Western Digital's headhunters to knock on his door.
Meanwhile, the company wants to make all of its products available as-a-serivce, having decided that the future doesn't involve trying to compete in public cloud or enterprise services.
Neri is one of millions to have fallen ill with the COVID-19 coronavirus, a number that includes a handful of tech executives. Back in March, for example, right as the virus was getting into full swing in the UK, BT chief exec Philip Jansen tested positive and went into self-isolation – not long after meeting the heads of Britain's other major telcos.
HPE's Discover conference will go ahead as a webinar series next week, said Neri.
El Reg wishes him and anyone infected by the disease a speedy recovery. ®