BT and Serco among bidders competing to run Britain's unfortunately named Skynet military satellite system
Hollywood was right!
The UK Ministry of Defence has shortlisted BT, Serco, Babcock and Airbus in the bidding for its £6bn Skynet satellite project.
Whoever wins the MoD's six-year Skynet 6 Private Finance Initiative (PFI) contract will find themselves operating and maintaining Britain's military satellites – including the vital changeover phase in 2025 when the old spacecraft are replaced with new ones.
Secret UK military and government communications that can't be entrusted to someone else's satellites are routed through Skynet. As a sovereign capability independent of the rest of the world's whims, it's rather important.
The so-called "Service Delivery Wrap" Skynet 6 contract has attracted quite a bit of defence industry attention, with all the named shortlisted bidders having formed consortia to enhance their chances. Last year Serco declared it was joining hands with Lockheed Martin, Inmarsat and IT firm CGI, according to reports, while BT is joining Inmarsat's arch-rival Viasat and NSSL Global for its rival bid.
Airbus is the current incumbent of the existing Skynet 5 contract – and the supplier of the Skynet 6A satellite, one of the birds upon which the next contract will be reliant. NSSL is also an "established provider" on the Skynet 5 contract, being a satellite communications supplier to the Royal Navy, as well as the Army and Air Force.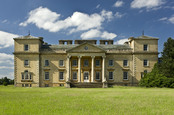 Worcestershire's airborne electronics warfare wonderland
GEEK'S GUIDE
Late last year the MoD's permanent secretary, Stephen Lovegrove, signed Skynet 6 off as being "essential" for military operations and pronounced the multibillion-pound project as OK from a financial point of view – while warning MPs [PDF, 3 pages] of "the level of risk against achieving the demanding schedule for the delivery of SKYNET 6A with a Planning Assumption for Service Entry of Q2 2025."
In a statement to The Register the BT-Viasat-NSSL consortium said: "In addition to supporting current MoD programmes, the Alliance is strongly positioned to contribute to the developing UK agenda around defence and space technologies. The Alliance provides leadership in SATCOM, cybersecurity, service delivery, tactical networking, artificial intelligence and emerging technologies."
A bewildering number of buzzwords in one paragraph.
Adding to that, Steve Beeching, Viasat's MD of government systems contracts, boasted in a canned statement that the consortium "will be able to provide crucial advancements from the defence and commercial sectors to quickly modernise the UK's Armed Forces capabilities and make the battlespace network of the future a reality for our service men and women."
The previous batch of Skynet satellites were launched in the late 2000s, as we reported at the time. ®
Bootnote
All these mentions of Skynet, satellites, cybersecurity, and AI will probably remind readers of Arnie Schwarzenegger's most famous film role. But don't forget, Skynet dates back to the 1960s as a UK defence project.