This article is more than 1 year old
America's Team Telecom urges FCC to do something about that 120Tbps fiber line between US, Hong Kong
Google, Facebook cable link to China problematic, says oversight body
The White House's Team Telecom advisory committee wants the FCC to put the kibosh on a proposed capacious fiber-optic cable linking America and Hong Kong.
The super-body said this week a 120Tbps fiber pipe between Los Angeles and the former British colony shouldn't be fully switched on due to security concerns. This is only a recommendation, for now, but with US-China relations souring, it will carry significant weight.
While Facebook and Google put up a lot of the construction costs, the other main partner in the Pacific Light Cable Network link is the Hong-Kong-based Pacific Light Data Communication, a subsidiary of the Dr Peng Group, China's fourth largest telco. The advisory committee thinks that business is a little too close to the Middle Kingdom's rulers for comfort.
In recommending blocking the project, the US government team cited a number of problems related to China, including "Dr Peng Group's relationship with PRC intelligence and security services and its obligations under PRC intelligence and cybersecurity laws, questions about Dr Peng Group's compliance with US laws and regulations stemming from separate acquisitions involving US telecommunications assets, and Pacific Light Data's connections to PRC state-owned carrier China Unicom."
All is not lost. Facebook and Google should still get some use out of the cable where it links up Taiwan and the Philippines, while PLDC will handle data between there and China – if Team Telecom's suggestions are taken up. The body acknowledged the enormous commercial benefits of the full link up, were it to happen.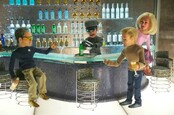 White House creates 'Team Telecom' to probe whether foreign telcos should be allowed near US networks
READ MORE
"As submitted to the FCC, the PLCN application would have allowed for the highest capacity subsea cable connection between the United States and Asia and been the first direct connection between the United States and Hong Kong," Team Telecom noted.
"PLCN's high capacity and low latency would encourage US communications traffic crossing the Pacific to detour through Hong Kong before reaching intended destinations in other parts of the Asia Pacific region
Formerly known as the Committee for the Assessment of Foreign Participation in the United States Telecommunications Services Sector", Team Telecom – yeah, we admit that's probably a better name – is a group of Justice department, Homeland Security and US Department of Defense officials investigating the way foreign companies do business in the US from a national security standpoint.
Reformed after past failings, the "team" is aimed at making sure foreign companies (read: China) don't hand data and communications from US companies and government agencies over to their respective governments. Members include US Attorney General Bill Barr, the Secretary of Defense, and the US Homeland Security Secretary.
Team Telecom – full disclosure: we can't write that title with a straight face – also says it will be willing to approve the linkup should some China-based subsidiaries of US tech giants Google and Facebook step in to manage the connections and make sure no Beijing government suits get their hands on the in-transit data. ®