Customers of Brit ISP Virgin Media have downloaded an extra 325GB since March, though we can't think why
That's a lot of... Netflix. Yes, that's it
---
Virgin Media has published post-lockdown broadband usage figures that, unsurprisingly, point towards massive spikes in data consumption as Brits work from home or look for something to do online.
On average, Virgin Media customers are downloading an extra 3.4GB per day. Since the start of March – which predates the official UK call for lockdown (23 March), but roughly aligns with mop-haired Prime Minister Boris Johnson's non-binding plea for people to stay home – households have downloaded an extra 325GB on average.
Similarly, upstream traffic was up by 3.7GB per week, undoubtedly a result of the increase in OTT voice and video traffic, as well as an upward swing in online gaming and live-streaming.
The UK ISP, which is set to merge with Telefonica's Brit O2 arm, described April as its busiest month in company history for network traffic, with May's usage only slightly behind.
Virgin Media observed some regional differences, with network traffic in Wales increasing by the lowest amount of all the home nations – namely 10 per cent. The ISP didn't hypothesise about the reason why, although it's plausible that the exodus of students from university towns like Swansea, Bangor, and Aberystwyth contributed.
Northern Ireland, however, proved the complete opposite, with Virgin Media reporting an increase of 58 per cent in upstream traffic sent during evenings. Coronavirus has battered the region, with 200,000 people furloughed from a total labour force of nearly 900,000. That figure is reflective of the services-dominated nature of the Northern Irish economy.
Downtime scarcely got a mention in the figures, except for Virgin Media waxing lyrical about the "resiliency" of its network. Some 130 Virgin Media outage instances were reported by customers on Down Detector for March, April, May and so far in June. In comparison, 13 instances were recorded for January and February.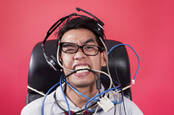 Outages batter UK's Virgin Media into wee hours as broadband failures spike 77% globally
READ MORE
Virgin sent us a statement:
"Fears that broadband networks would not be able to cope with increased usage during lockdown have not materialised despite customers using their connections more intensively than ever," it said. "The vast majority of Virgin Media customers are receiving speeds faster than their headline package speed. Our network remains resilient with ample capacity."
Not according to UK comms watchdog Ofcom, which last month claimed average download speeds across the country declined 2 per cent in the week after lockdown, compared to the week ended 8 March. It claimed Virgin Media customers saw the most dramatic drop in download speeds, falling 10 per cent.
Data from network intelligence firm ThousandEyes indicate Virgin Media is not alone, pointing to its data that indicates outages across broadband networks went up 77 per cent in the week of 20-26 April compared to the week commencing 6 April. Digital blackouts in the UK swelled 62 per cent in the days from 13 to 19 April.
The majority of all outages between January and April were ISP-related, said ThousandEyes, which added it had seen a steady rise in the number of global ISP-related outages since the beginning of March, with a brief decrease in April. It said that: "Even last week (8-14 June) saw the number of global ISP outages increase by 32 per cent," though it noted that in the UK outages had actually dropped by 11 per cent. ®