This article is more than 1 year old
Hey NYPD, when you're done tear-gassing and running over protesters, can you tell us about your spy gear?
City council demands snoop gear kit reports, mayor OK with that
New York City Council has overwhelmingly voted to require cops to report their use of surveillance technology.
The Public Oversight of Surveillance Technology (POST) Act has been languishing in limbo for three years though was passed on Thursday with a veto-proof 44-6 vote. It, and five other bills aimed at curbing police budgets and methods also, made it through.
When the legislation was introduced in 2017, Mayor Bill de Blasio opposed making the NYPD – known for it unique approach to protecting and serving during protests – cough up "information on surveillance technologies such as the description and capabilities, rules, processes and guidelines, and any safeguards and security measures designed to protect the information collected."
Now de Blasio says he's OK with the rules, and will sign them off, not that he has much choice.
The law will require the New York City plod to provide the city government with annual reports on its use of surveillance equipment such as face scanning, Stinger cellphone trackers, and eavesdropping gear. The cops will also be audited once a year to make sure they are sticking to the letter of the law.
To be precise, the bill defines surveillance tech as "equipment, software, or systems capable of, or used or designed for, collecting, retaining, processing, or sharing audio, video, location, thermal, biometric, or similar information, that is operated by or at the direction of the department," but not any internal communications gear (so it won't apply to regular IT setups) nor cameras intended to keep city buildings from being vandalized.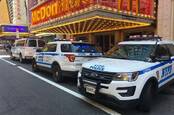 NYC cops say they can't reveal figures on cash seized from people – the database is too shoddy
READ MORE
All of this will be overseen by the NYPD's Inspector General.
The NYPD could not be reached for immediate comment on the vote, though the department previously said that the bill "as currently proposed, would literally require the NYPD to advertise on its website the covert means and equipment used by undercover officers who risk their lives every day."
The new legislation was part of a six bills passed by New York politicians. One banned the use of choke-holds by officers, and another to ensure that badge numbers are never covered over by police on public duty. The right to film police in public was also enshrined in law, as was the creation of a "disciplinary matrix" within the NYPD to identify officers who misbehave.
"Today's package of police reform bills is a call to action in response to the deaths of Ahmaud Arbery, George Floyd, Breonna Taylor, and Tony McDade that ignited the start of a global movement," council member Vanessa Gibson said of the POST Act and others.
"These bills are the floor and not the ceiling in ensuring transparency and oversight over the NYPD and that protections are in place for communities of color."
While New York, New York, is the largest US city to date to pass surveillance reporting laws, the Big Apple is not the first. For example, San Francisco got its surveillance reporting ordinance [PDF] back in 2019 (along with a ban on facial recognition). Neighboring Oakland has had its surveillance reporting requirement in place since 2018. ®