This article is more than 1 year old
Health Sec Hancock says UK will use Apple-Google API for virus contact-tracing app after all (even though Apple were right rotters)
It's The Reg wot warned it
Updated The UK government last night confirmed it has aborted its ill-conceived coronavirus contact-tracing phone app – blaming protections and battery-saving restrictions in Apple's iOS for its failure.
Rather than use its own controversial home-brewed techniques for detecting nearby people via Bluetooth, Blighty will instead build iOS and Android mobile apps that use the decentralized Apple-Google system like most of the rest of the world.
As The Register warned in May, the British government's original approach was on a collision course with various technical, legal, and privacy hurdles. For one thing, it was forced to use not-entirely-reliable unofficial workarounds to perform the wireless contact tracing.
Now, in a dramatic U-turn, the UK will use the Apple-Google interface after all, which is more reliable because it's specifically designed for contact tracing, and is built into and sanctioned by iOS and Android. It is also designed to perform all the contact testing within people's handhelds for privacy reasons, rather than beam people's whereabouts to a centralized database, and no data goes to either tech giant.
In a Thursday evening press conference, Matt Hancock, Secretary of State for Health and Social Care, claimed that back in May he ordered the head of the country's Test and Trace programme Dido Harding – of TalkTalk fame – and the National Health Service's IT arm, aka NHSX, to start work on producing smartphone applications that used the Google-Apple interface as an alternative to the home-grown effort.
Months before that intervention, in March, NHSX issued contracts to various companies to build COVID-19 contact-tracing applications for the nation; a trial was held in the Isle of Wight at the start of May; and 54,000 people downloaded the software. It was due to be rolled out across the UK this month. Prime Minister Boris Johnson promised a "world-beating app." Meanwhile, in April, Google and Apple announced they were working on an official interface together for health organizations and nations to use, a system that the UK turned its back on – until now.
The effects of that shortsighted snub are now clear. At the press conference, Hancock said NHSX had "rigorously tested" its home-grown applications, and "discovered a technical barrier that every other country building their own app is also now hitting. We found that our app works well on Android devices, but Apple software prevents iPhones being used effectively for contact tracing unless you are using Apple's own technology."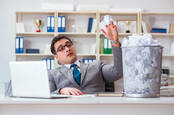 No surprise: Britain ditches central database model for virus contact-tracing apps in favour of Apple-Google API
READ MORE
As we explained weeks and weeks ago, to preserve battery power and prevent the abuse of the Bluetooth subsystem, iOS limits what apps can do in the background, including sending out pings via Bluetooth radio to detect nearby smartphones, as required by the NHSX contact-tracing app. As a workaround, the NHSX approach involved setting up a timer to keep the code awake every few seconds. This was not recommended by Apple, which instead preferred the use of the official Google-Apple API for background Bluetooth activity.
In May, NHSX boss Matthew Gould told a parliamentary committee that the health service would ditch the home-grown software if "it becomes clear that a different approach is a better one… We are not particularly wedded to a single approach."
Last night, however, Hancock was unconvinced the Apple-Google interface was entirely up to scratch. One beef is that the Apple-Google system approximates how close you got to someone who was infected. Hancock wants to know those distances more precisely, partly, we presume, to figure out how well people are socially distancing and how far the virus travels, and partly, perhaps, to save face. Fine, we'll do what Apple says, but we don't like it.
You can judge for yourself whether the Gabble API is up to snuff from the specification [PDF] and documentation.
"Measuring distance of course is mission critical to any contact-tracing app," Hancock insisted. What is likely to happen now is NHSX will build apps that use the official interface, and then maybe add in its own distance estimation code, which, like the Gabble method, relies on measuring Bluetooth signal strength.
"We have agreed to join forces with Google and Apple, to bring the best bits of both systems together," Hancock continued, "we'll share our algorithm and the work that we've done on distance calculation and combine that with their work to deliver a new solution. What we've done in really rigorously testing both our own COVID-19 app, and the Google-Apple version is demonstrate that none of them are working sufficiently well enough to actually be reliable to determine whether any of us should self isolate for two weeks."
The contact-tracing apps were considered central to the fight against COVID-19, though as the weeks and months passed, the role of the software was relegated by Harding to the "cherry on the cake." Hancock maintained this somewhat dubious narrative, saying the track-and-trace system launched at the end of last month is "based on good old fashioned humans" and is "working well."
By the way, when told a fraction of the estimated 10,000 people in the UK showing symptoms of COVID-19 each week were actually tested, Harding said: "I'm not pretending that it is perfect."
As for when applications based on Apple and Google's interface will be ready, Hancock said: "We are not going to put as date on it." Based on the track record, that's entirely understandable. PS, Matt, Google released some template frontend and backend code for governments and organizations to use as the basis of their applications. You might need it. ®
Bootnote
Hancock engaged in some mild revisionism, claiming officials "kept our options open" after Apple and Google pitched their approach in April, while Blighty was a month into building its doomed home-grown apps. When The Register sounded the alarm in May, the spin from central government to the BBC and other mass media was clear: El Reg was wrong, the home-grown apps work "sufficiently well," and the UK was full-steam ahead with the software. Not exactly what we'd call keeping "options open."