This article is more than 1 year old
Fujitsu, Japan strong-Arm their way to the top with world's fastest-known super: 415-PFLOPS Fugaku
That big Arm news you were all expecting today, right?
Japan's Arm-based 415-PFLOPS, 28MW Fugaku monster was today crowned the world's most-powerful publicly known supercomputer.
The system leads the official Top500 list, knocking America's IBM Power-based 148-PFLOPS Summit into second place.
The Fujitsu-built Fugaku has a theoretical peak performance of 513-PFLOPS, or 513 quadrillion math calculations per second, and sports 7.3 million 64-bit CPU cores, clocked at 2.2GHz, packed into 152,064 48-core Arm-compatible Fujitsu-designed A64FX processors. Our sister site, The Next Platform, has more details right here.
We can tell you that this beast has 4.87PB of RAM, runs Red Hat Enterprise Linux, and uses Fujitsu's Tofu interconnect D to keep everything moving. It is due to enter public service in 2021, was commissioned by Japanese science institute Riken, and will be used to study all sorts of stuff from coronavirus treatments, earthquakes and new drugs, to energy sources and the fundamental laws of the physical universe.
The machine will immediately be put to use simulating and studying the spread of the COVID-19 virus in airborne droplets in offices, on public transport, and in similar scenarios, though, we're told.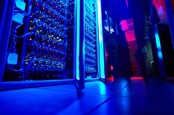 Microsoft claims it has spun up a top-five AI supercomputer for its pals at OpenAI – but won't reveal the full specs
READ MORE
Arm, as you can imagine, was quick to use the achievement to argue its processor architecture is capable of powering more than just the worlds of cellphones and tablets, Internet-of-Things gadgets, and embedded electronics. The not-so-secret weapons in Fujitsu's A64FX silicon are the Scalable Vector Engines Arm and Fujitsu came up with to accelerate supercomputer workloads, such as simulations and machine-learning algorithms.
"Powering the world's fastest supercomputer is a milestone our entire ecosystem should be celebrating as this is a significant proof point of the innovation and momentum behind Arm platforms making meaningful impact across the infrastructure and into HPC," said Rene Haas, president of the IP Group at Arm.
Fujitsu previously used the Sparc processor architecture for its Japanese supercomputers, announcing its switch to Arm in 2016.
The 10MW Summit, we note, contains a mixture of CPUs and GPUs: IBM Power9 CPU cores arranged in 22-core 3GHz processors, plus Nvidia's Tesla V100 graphics processing units. The behemoth is the fastest publicly known supercomputer in the US, and is operated by boffins at the Oak Ridge National Laboratory in Tennessee. The 94-PFLOPS, 7.4MW Sierra, another US super with a similar architecture to Summit, is ranked number three.
Although none of China's supercomputers made it into the top three this time, it continues to dominate the Top500 list with 226 entries. America is next with 114 machines, and Japan is third with 30 supercomputers. ®