Russia has lifted restrictions on secure messaging app Telegram after its developers agreed to block some content.
Telegram proclaims that it has a "mission to provide the best security combined with ease of use. Everything on Telegram, including chats, groups, media, etc. is encrypted using a combination of 256-bit symmetric AES encryption, 2048-bit RSA encryption, and Diffie–Hellman secure key exchange."
All that crypto irked Russia, which has blocked VPNs and large ranges of IP addresses in order to stop messages flowing, on grounds that Telegram is used by extremists, terrorists and to distribute child exploitation material.
Now Telegram and Russia have reached an agreement to allow wider access to the app, after Telegram founder and CEO Pavel Durov signaled the service has adopted technology that lets it block material that calls for terrorism or violence without compromising user privacy.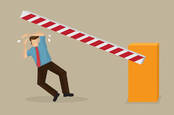 Telegram users get their stickers back as Apple passes update
READ MORE
A brief statement from Russian telecoms regulator Roskomnadzor said "We positively assess the readiness expressed by the founder of Telegram to counter terrorism and extremism."
And because of that readiness: "By agreement with the Prosecutor General's Office of the Russian Federation, Roskomnadzor removes requirements to limit access to the Telegram messenger."
Telegram CEO Pavel Durov signalled his company's willingness to find a compromise in late 2019, when he Tweeted: "We support free speech and peaceful protest, but terrorist propaganda has no place on our platform. The success of our ongoing anti-ISIS efforts proves that you don't have to sacrifice privacy for security. You can – and should – enjoy both."
Which is where things get interesting, because Russia has used the "terrorist" to describe Ukrainian forces' actions in parts of Crimea that Russia seized in 2014
Just what Telegram has promised to do in return for blocks being lifted has not been revealed. Whatever it is, The Register expects Russian president-for-just-about-life Vladimir Putin will find it pleasing. ®