This article is more than 1 year old
Coming live from Next@Acer in Taipei: Hardware refreshes, new ruggedised line – and, er, an energy drink
A plan to inject life into the flagging PC industry? Meet the Predator Shot: putting the spin in spinach
Carving a living in the cut-throat world of PCs sales is a tough business, just ask Taiwanese vendor Acer. Perhaps in the hope of injecting more fizz into its upcoming line-up, the business has rolled out an energy drink alongside a slew of brand spanking new computers.
Hardware releases came thick and fast today at the Next@Acer event in Taipei, touching on education and industrial uses, while making detours into the creative and gaming sectors. Various form factors were given a refresh, from Chromebooks to the Predator laptop and the, er, Predator Shot drink was given its first outing.
First up: Chromebooks. Historically, Acer has held its own in this sector. With the spread of remote working and distance learning due to the spread of Covid-19, the smart money points to increased demand for all portables in the coming months.
Catering to this, Acer launched two (well, technically three, but we'll get to that later) differing 2-in-1 models. The base model – the Chromebook Spin 311 – is the one most targeted at education users, packing a power-sipping Mediatek MT8183 platform, an 11.1-inch touch display, and Corning's rugged Gorilla Glass, which is shielded with an antibacterial coating.
Separately, Acer touted its latest high-end Chromebook – the Intel Athena-certified Spin 713. This comes in two separate flavours: one for enterprise users, with another for the general public.
The Acer Chromebook Spin 713 touts Intel's Core i5 and i7 processor options, with support for up to 16GB of DDR4 SDRAM, and a choice between up to 128GB eMMC and 256GB NVMe storage. On the display front, there's a 13.5-inch 2K panel, with a 3:2 apect ratio and Corning's Gorilla Glass. Prices will start at €699, or $629.99 in the US and £599.99 in the UK.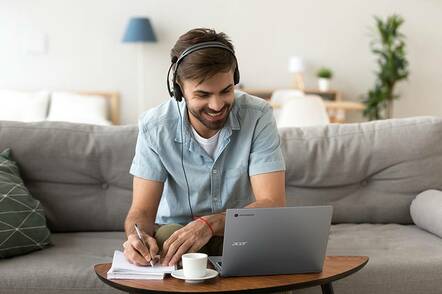 Someone using the Acer Spin in happier times
Traditionally, there hasn't been much need for huge drives (let alone fast NVMe ones) in the Chromebook world, which has historically emphasised cloud services. That's gradually changing, with newer Chromebooks natively supporting Android apps. Later this year, support for Windows will be added, thanks to a partnership between Google and Parallels.
Of course, this begs the question: What's the difference between the enterprise and consumer versions? Besides the €899/ $1099 price tag, the besuited-version of the Spin 713 includes Google's Chrome Enterprise Upgrade software, allowing corporates to deploy and manage at scale.
Enduro-this launch event
Acer also whipped the covers off a brand-new range of rugged laptops, under the Enduro marque, which tout IP65 rough-and-tough certifications and adherence to the MIL-810G durability standard.
The most visually intimidating is the 14-inch Acer Enduro N7, which packs the thick rubber cladding and girth you'd expect from a device in its category. This device prioritises hardiness over performance, with only 8th-gen Intel i5 silicon available, plus 8GB RAM and 128GB SATA storage.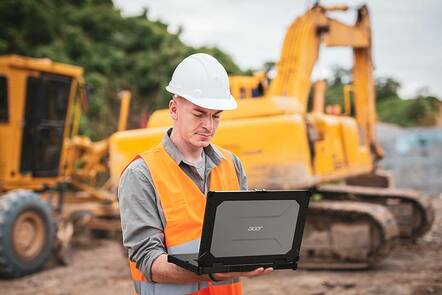 The Enduro N7 in case you want to look busy on a construction site
Then there's the Enduro N3, which is the thinner alternative to the N7, and attempts to strike a balance between ruggedness and portability. Here, Acer gives the buyer a choice of 10th-gen Intel chips across the i3, i5, and i7 lines. The laptop is also configurable with up to 16GB of RAM (user-configurable to 32GB), and a choice of Intel UHD and Nvidia MX230 graphics.
The rugged computing sector has traditionally been dominated by two players: Panasonic and GETAC. It'll be interesting to see if there's room for an additional seat at the table.
Acer is also bringing a software tool dubbed the Acer Enduro Management Suite (AEMS) which promises to let admins remotely manage deployed rugged devices. According to the Enduro presser, AEMS can be used by the humble pimply-faced youth in tech to install software and updates, deactivate IO ports and webcams, and configure physical hotkeys.
Admittedly, you can do much of that with the built-in Group Policy tool in Windows, so it's not clear where the advantage is here. We've asked Acer and will update this post when we hear back.
Move over, Apple. Acer's here with… something.
The rest of Acer's latest fare is decidedly consumer-oriented. The most interesting device on show is arguably Acer's answer to the iPad Pro: the ConceptD 3 Ezel.
Aimed at artists and similar creatives, the Ezel puts the touchscreen display on a hinge located halfway down the rear of the lid, allowing you to adjust the device's elevation and viewing angles in the same way you would using Apple's latest Magic Keyboard case for the iPad Pro.
The name "Ezel" comes from the fact that a user can position the display like a traditional drawing easel. Get it? You can also flip it over completely and use it as a standard tablet – albeit a bulky one, with the ConceptD 3 Ezel coming in 14-inch and 15-inch flavours.
Under the hood, punters can choose between 10th generation Intel Core i5 and i7 processors. There's also room for 16GB of RAM, 2TB of NVMe PCIe storage, and a discrete graphics card, with Nvidia GTX 1650, GTX 1650T, and Nvidia Quadro T1000 options available.
It's all fun and games until someone gets type-two diabetes
Acer also used the event to highlight a refresh of its Predator gaming laptops, with the usual specs bump, improved keyboards, and better thermal performance in the most heavyweight models.
Curiously, Acer also announced the launch of its first energy drink: The Predator Shot. A full list of ingredients is yet to be revealed, although Acer assured us that it's packed with vitamin B and lutein, which is found in abundance in leafy greens like spinach.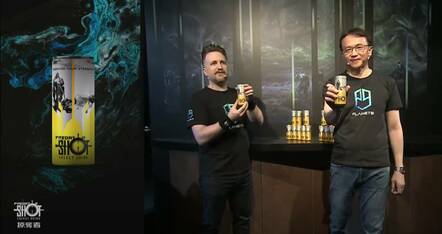 Wow, this actually happened ... The Acer energy drink
This energy drink should be given to Acer's sales team across the channel: the company was the largest notebook vendor in Europe back in the noughties but lost ground to rivals and hasn't regained it since.
In 2020, Acer was the fifth biggest PC maker globally, according to stats from Gartner. It sold almost 14.7 million units compared to leader Lenovo, which shifted nearly 63 million. Meanwhile, the energy drink market was valued at $53bn in 2018 and is expected to reach $86bn by 2026.
Surely that can't be a coincidence, right?