This article is more than 1 year old
Give me your tired, your poor, your huddled masses... but not your H-1B geeks, L-1 staffers nor J-1 students
US blocks entry for visa holders until the end of the year, cites COVID-19-sparked unemployment
President Donald Trump has signed an executive order blocking holders of certain immigration visas, including skilled workers' H-1Bs for acdemics' J-1s, from entering America for the remainder of the year.
The White House announced the move late Monday afternoon, following days of media speculation and a Sunday admission from the President himself that an executive order was imminent.
The Trump administration said the latest order, an extension of a similar proclamation issued in April, will prevent holders of H-1B visas, aimed at techies and other skilled employees; L-1s held by managers and skilled staff transferring from overseas to America; H-2Bs held by casual foreign workers; and J-1 academics from entering the country.
There are some exceptions to the visa freeze. The order will not apply to foreigners outside America with valid, embassy-stamped paperwork already in place. Those in the nation right now are unaffected.
Additional exceptions will be made for those who are the spouse or child of a US citizen, those whose work is deemed "essential to the US food supply chain," and "any alien whose entry would be in the national interest as determined by the Secretary of State, the Secretary of Homeland Security, or their respective designees."
We take that last part to mean your CEO will have to call in a favor.
Green card applications on hold from the previous executive order will also be paused to the end of the year.
In extending that April order, Trump continues to reason that, with so many out of work due to the coronavirus pandemic smashing the economy, Americans should be given first crack at job openings.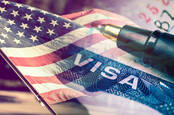 Tech outfits sue Uncle Sam over 'unlawful' H-1B admission charges totaling $350m over six years
READ MORE
"The entry of additional workers through the H-1B, H-2B, J, and L nonimmigrant visa programs, therefore, presents a significant threat to employment opportunities for Americans affected by the extraordinary economic disruptions caused by the COVID-19 outbreak," the latest order reads.
It is unclear, however, how many unemployed Americans will be willing (H-2B covers temporary, seasonal labor) and/or qualified (H1-B is earmarked for specialized skilled roles) to do those jobs under the wages and demands being offered by employers today.
The White House reckoned that since the pandemic began, 20 million of those who lost their jobs were "in key industries where employers are currently requesting H-1B and L workers to fill positions," though that is a rather sweeping generalization. (Though, yeah, we know about H-1B fraud; it's a problem.)
The Trump administration's policies haven't been too popular in Silicon Valley, where 40 per cent of workers said back in 2019 they had been directly, negatively impacted in their work by the Trump administration's (even looser at the time) restrictions on H-1B hiring.
Designed to provide companies a way to bring in workers with highly technical skillsets, H-1B visas have been used in Silicon Valley to fill engineering departments with top international talent, boosting America's brains. There's also the argument that the US economy and its success is built on immigrants.
At the same time, it has been found that some organizations, particularly those who provide temp-work and short-term service contracts, were abusing the system to fill their ranks with low-cost workers who were beholden to their bosses to maintain their US residency. ®