This article is more than 1 year old
Apple launches incredible features everyone else had more than a year ago – this time for the 'smart home'
HomeKit still playing catch-up though facial rec and better automation still a step in the right direction
WWDC Apple has added facial recognition and new automation features to its smart home products, edging its HomeKit system forward while still playing catch-up in the market.
At its WWDC virtual event this week, the tech titan offered a range of improvements to its various smart home and internet-of-things products, including a number of new sensors that will be in products starting next year.
While attention was most focused on a new system that would allow you to use your phone to unlock your car, as well as provide access to your car to other Apple phone owners – well, so long as you buy the right car – the updates to its HomeKit interface could finally start making Apple a viable option for smart homes.
Most significant was Secure Video which will add facial recognition and motion zones to cameras that work with HomeKit. This has been available in products from its main rivals – Google-owned Nest and Amazon-owned Ring – for years, literally three years in the case of Nest. But it is a sign that Apple may finally be investing in its smart home technology. Below is a clip of its HomeKit announcements this week from WWDC.
There is one significant difference between Apple's approach and those of its rivals, however: it says all the processing will be done locally on the devices themselves, rather than sent up to the cloud. This is definitely something that those concerned about privacy and security will see as an advantage, especially given the persistent security problems in smart home products.
That's if Apple can get it right, of course. The iGiant spent literally years insisting that, for privacy and security reasons, any HomeKit product would have to have a special Apple-certified microcontroller and firmware in it, before finally realizing that was unworkable, and moved the encryption component of it into software instead.
Apple has also copied its rivals in saying that when it does provide facial recognition, the tech will do things like announce who is at the door.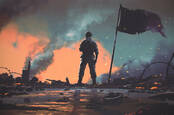 The IoT wars are over, maybe? Amazon, Apple, Google give up on smart-home domination dreams, agree to develop common standards
READ MORE
Another feature that will make HomeKit more useful and less frustrating is automation improvements in its control center. So, for example, controls will vary during the day: in the morning, one set of controls will be more prominent than others – such as turning on lights – and they will vary throughout the day so you can, for example, turn on the house alarm in the evening.
This may sound like a small thing but these small changes – that can be quite difficult to perfect – make the difference between a smart home that actually makes people's lives easier and one that makes you wonder why on Earth you are pulling out your phone when you can literally press the switch in front of you.
Again, Apple is playing catch-up here but the improvements – most of which will be included in the new version of its mobile operating system, iOS 14 – keep the Cupertino idiot-tax operation in the game. Likewise "adaptive lighting" that will change the color of smart bulbs throughout the day. Smart home companies have realized that the only way their products will get adopted beyond a hard core of tech fans is if they make useful changes without the user having to do it themselves every time.
Apple also pointed out how its products will integrate with one another. Its answer to Alexa and Google Home, the HomePod, will be a part of the system and the AppleTV will, too – for example, displaying a video feed from a smart camera in the corner of a TV screen when someone rings the doorbell.
Door still open
If Apple does all this right, it could use its classic hardware-software integration to offer a suite of products that work seamlessly.
And, very fortunately for Apple, the smart home market has still, still, yet to take off in a meaningful way, so it still has time to muscle into the arena. What is holding everything back? It's pretty simple: integration and interoperability.
Back in December, the IoT wars finally reached a ceasefire and the majority of the market – including Amazon, Apple and Google – agreed to work on a set of common standards that will allow smart home products, from thermostats to cameras to plugs to digital assistants, to work together seamlessly.
The "Connected Home over IP" will be an IP-based protocol so it can connect directly to the network and internet rather than require a hub, will be open-source and royalty-free, and allow for end-to-end secure communication while working with core communications standards like Bluetooth and Wi-Fi.
That standard is due in a draft form toward the end of this year with new products expected in 2021. It should be the start of a new era in smart home tech, where Alexa talks to Nest, which talks to HomeKit, and you can have a single app on your phone to talk to everything else.
Apple execs mentioned "Connected Home over IP" in its HomeKit presentations this week which means a lot coming from a control-freak organization, and suggests that positive progress is being made.
With its updates announced at this year's WWDC, Apple should be in a position to compete on a relatively level playing field with Amazon and Google when the next generation of smart home products come around, especially with Google seemingly squandering its massive lead that it had with Nest products by trying to jam Google technology into them. ®