Markus Braun, who resigned as CEO of financial services firm Wirecard AG last week, was arrested by police in Munich, Germany, on Monday and released after posting €5m ($5.7m) bail.
Braun traveled to Munich from his home in Vienna, Austria, to turn himself in after German prosecutors issued an arrest warrant.
Braun, who at times has appeared in a black turtleneck that invites comparison to both late Apple co-founder Steve Jobs and former Theranos boss Elizabeth Holmes, is suspected by German authorities of manipulating the accounting records of the Wirecard.
According to the fintech biz, which processes electronic payments, about €1.9bn in assets ($2.1bn) have gone missing.
The missing funds may have been entirely fictitious. Wirecard's management board in a statement issued on Monday said, "there is a prevailing likelihood that the bank trust account balances in the amount of €1.9bn do not exist."
That's more than a quarter of the €6.8bn in assets claimed by the company in September 2019. The firm has withdrawn its 2019 and Q1 2020 financial results, noting that its auditor EY said it could not reconcile the company accounts.
Wirecard COO and board member Jan Marsalek was dismissed from the company on Monday.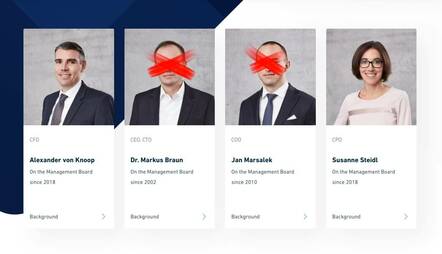 Gone ... now-former Wirecard top brass Markus Braun and Jan Marsalek on their corporate profile page ... Click to enlarge
The financial scandal is already being compared to Enron, the US-based energy company that went bust in 2001 after the discovery of massive accounting fraud.
That may be overstating the case a bit: Enron's losses are estimated to have cost investors about $74bn. At its peak in August, 2018, Wirecard's market capitalization was about $28bn. Presently, the business is worth about $2.2bn, maybe.
With its stock down about 80 per cent from last week, Wirecard is said to be frantically trying to come up with cash to cover the missing funds. In the absence of approved financial statements, creditors have the right to call in about €2bn in loans.
The Financial Times last year reported on a whistleblower's allegations that Wirecard staff in Singapore had forged documents to deceive regulators. In response, German finance regulator BaFin filed a complaint against the publication and the report's author alleging attempted stock manipulation. ®