This article is more than 1 year old
Detroit cops cuffed, threw a dad misidentified by facial recognition in jail. Now the ACLU's demanding action
Another machine-learning model that can't tell people of color apart? Shocker
The American Civil Liberties Union has formally complained to Detroit police, who wrongfully arrested and locked up a dad after he was misidentified as a thief by facial-recognition software and a security guard.
Robert Williams was cuffed and taken away by officers in January in front of his wife and two young children on his front lawn in Michigan. He spent the night in jail confused; he had no idea why he had been collared. The next day he learned he had been mistaken for another person of color.
Williams said a suspected thief, captured on CCTV, wasn't him. The man in the images was accused of stealing watches from a Shinola store, an upmarket luxury goods store roughly 18 months ago. The police had run the footage through as-yet unidentified facial-recognition software, which wrongly fingered Williams – an error that spiraled into his arrest.
"I hope you all don't think all black men look alike," Williams said he told officers during his interrogation behind bars. "The computer must have gotten it wrong," an officer replied, we're told. The dad remained in custody until he was picked up by his wife later that day.
After the AI software misidentified Williams, and prior to the father's arrest, Detroit officers had shown a security guard working at the swanky store six photographs. One of them was Williams' driver's license picture. Unfortunately, the guard incorrectly picked out Williams among the images, and believed he was the man who stole the watches – even though the guard didn't witness the crime personally, was relying on CCTV footage provided by the police.
"When I look at the picture of the guy, I just see a big Black guy. I don't see a resemblance. I don't think he looks like me at all," Williams told NPR.
The charges against Williams were dropped though the humiliation and record of his arrest remain. Now, the ACLU has filed an official complaint to the Police Chief Investigator in Detroit, demanding a misconduct probe.
"I write on behalf of the Williams family to formally lodge a complaint about this incident," Phil Mayor, a senior staff attorney at the ACLU Fund of Michigan, wrote this week.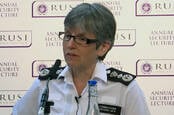 London's top cop dismisses 'highly inaccurate or ill informed' facial-recognition critics, possibly ironically
READ MORE
"At every step, [Detroit Police Department's] conduct has been improper: it unthinkingly relied on flawed and racist facial recognition technology without taking reasonable measures to verify the information being provided, it conducted a shoddy and incomplete investigation, its officers were rude and threatening, and it has completely failed to respond to a [Freedom of Information Act] request seeking relevant records."
Multiple studies have shown that facial-recognition algorithms often struggle with correctly identifying people with darker skin. A previous investigation by the ACLU into Amazon's controversial Rekognition software revealed it mistook US Congress members for suspected criminals in a database of mugshots.
Williams hired an attorney, who filed multiple freedom-of-information requests to find out how he was misidentified by the plod's computers. The police have not responded to the queries.
The ACLU complaint demanded a public apology from the department, and an end to its use of facial-recognition technology altogether. Mayor also urged the city's watchdog to get the police to remove Williams from their image databases; to dismiss his case with prejudice, or permanently in other words, rather than without prejudice; and to get them to comply with his freedom-of-information requests.
"To address police brutality, we need to address the technologies that exacerbate it too," the ACLU attorney wrote. "When you add a racist and broken technology to a racist and broken criminal legal system, you get racist and broken outcomes. When you add a perfect technology to a broken and racist legal system, you only automate that system's flaws and render it a more efficient tool of oppression."
"It is now more urgent than ever for our lawmakers to stop law enforcement use of face recognition technology. What happened to the Williams' family should not happen to another family. Our taxpayer dollars should not go toward surveillance technologies that can be abused to harm us, track us wherever we go, and turn us into suspects simply because we got a state ID." ®