SpaceX popped another Starship tank yesterday as NASA prepared to conduct a final structural test of its SLS rocket.
Elon Musk's rocketeers had patched up the prototype Starship tank, SN7, ahead of a round of testing to destruction. The hope was that the unit would make it past 7.6-bar mark, where it began leaking last time.
While Musk has yet to confirm how well the repairs performed and the pressure at which the failure occurred, it is unlikely that some duct tape will repair the damage this time around. The tank, with test stand still attached, left the ground briefly, perhaps pointing to a rupture somewhere around the base of the structure.
10 meter hop. 😅

Hopper: "Nice try, Junior". pic.twitter.com/eJrnLggndc

— Chris B - NSF (@NASASpaceflight) June 23, 2020
The tank testing has continued as SpaceX readies the next Starship prototype for limited flight following the impressively explosive demise of SN4 just before the successful launch of a Crew Dragon atop the workhorse Falcon 9.
The next Starship prototype, dubbed SN5, is due to replace the scorched remains of SN4 in the coming weeks and attempt a Raptor engine firing that leads to the longed-for "hop".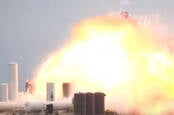 Watch SpaceX's Starship SN4 prototype accidentally self-destruct in a rocket test burn
READ MORE
SpaceX is not the only one blowing up rockets. Having ended last year by deliberately rupturing an SLS tank by seeing at what point the liquid hydrogen tank would split (260 per cent of flight pressure), NASA is back with some structural testing for the SLS's liquid oxygen tank.
Sadists at NASA's Marshall Space Flight Center in Huntsville, Alabama, will be enclosing the tank in a cage-like structure before applying millions of pounds of force to pull and push the unfortunate test article in order to see at what point it fails.
The test will see the tank filled with water to simulate the liquid oxygen before being exposed to forces of the sort expected in launch and flight and beyond.
"The water may create a loud sound as it bursts through the tank's skin," the agency admitted.
The previous test to destruction "created noise heard in some Huntsville neighborhoods near Marshall [miles away]."
The final test will mark the end of structural testing for NASA's monster rocket and help complete the verification of models showing that the design can survive launch, whenever that eventually takes place. ®
Similar topics