This article is more than 1 year old
CSI: Xiaomi. Snappy Redmi Note 9 Pro shows every fingerprint, but at least you get bang for your buck
High-spec £249 blower – but can it play
Crysis

Call of Duty?
Review Bargain-basement phones like the Redmi Note 9 Pro helped establish Xiaomi. And, having spent time with the Chinese firm's latest blower for the UK market, it's really not hard to see why.
First, there's the price: at £249, it sits in that competitive sweet spot between the bottom and middle tiers of the smartphone market. And yet, it manages to deliver pretty much everything you'd want from a phone in 2020: including a quad-camera setup, long-lasting battery life, fast charging, and a contemporary design.
The phone packs a 6.7-inch borderless display, with the front-facing 16MP selfie camera nestled within a discrete hole at the top of the screen. It's decently bright, with good readability in bright outside conditions. As you'd expect given the price, the refresh rate is 60Hz.
As the name implies, the Redmi Note 9 Pro is big, with that extra screen real estate lending itself favourably to consuming emails and watching the odd bit of Netflix. It ever so slightly pips the Huawei P40 Pro in terms of width and height. Despite that, it doesn't feel oppressively huge, and that extra size doesn't come at the expense of ergonomics.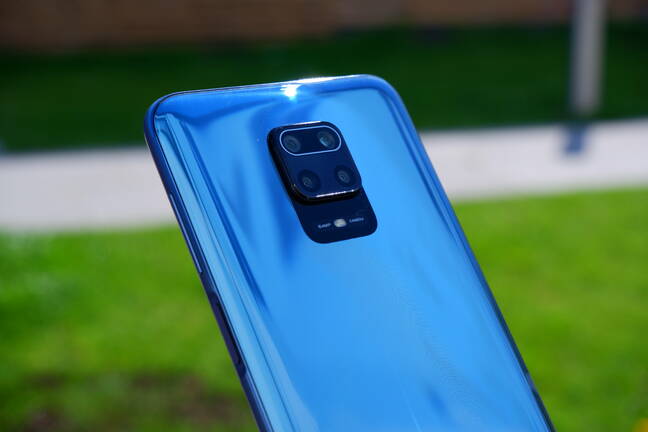 It is slightly thicker than you'd perhaps expect. Few, I doubt, will mind that, as the Redmi Note 9 Pro packs extras seldom seen in 2020, including an IR blaster (allowing you to use your phone as a remote control) and a 3.5mm headphone jack.
And, like the Huawei P40 Pro, the Redmi Note 9 Pro houses its four-camera array in a bulbous little box that protrudes awkwardly from the device. Again, this is forgivable, considering the shots produced, which easily surpass anything you'd expect from a device within the same price point. Detail abounds during daylight shots, while colour fidelity is strong, producing images that look rich without the excessive saturation found on cheaper phones.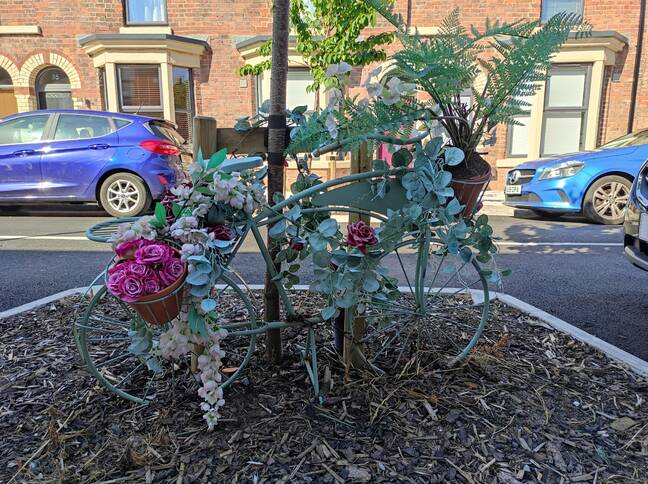 On the software front, the Redmi Note 9 Pro uses the latest-and-greatest Android 10, although this is heavily skinned with Xiaomi's divisive MIUI 11 environment. To give credit where it's due, MIUI has evolved since its awkward early days, and while some may prefer a cleaner "stock" environment, this hack is a big fan of the advanced battery conservation settings and more granular system controls on offer. And it doesn't feel nearly as intrusive as the environment used on TCL's inaugural crop of phones.
The Redmi Note 9 Pro comes with Google Mobile Services (GMS), and thus, the Google Play Store. In what's obviously a dig to Huawei, its troubled rival, Xiaomi points this out on the box. Twice.
Subtle? Never been there.
Still, it manages to cope sterlingly with whatever you'll throw at it, thanks to its Snapdragon 720G platform, paired with an acceptable helping of RAM (6GB or 8GB, depending on the model bought).
While I know most Reg readers are serious IT pros with scant time for games, we still "tested" the device with Call of Duty: Mobile, where it proved capable of keeping up with the frags. Elsewhere, it handled multitasking and media-rich websites without much perceptible lag.
On the storage front, punters get a choice between 64GB and 128GB of UFS 2.1 flash. We regard 128GB as the absolute minimum, particularly for those accustomed to accumulating pictures and apps. With 64GB, it's likely you'll end up coming face-to-face with your phone's limits in short order. Fortunately, there's room for a MicroSD card.
Xiaomi wins serious points for its generous 5,020mAh battery, which supports 30W fast charging, and comfortably lasts 36 hours between charges (and potentially much longer, if you're conservative with your usage and avail yourself of MIUI's battery settings). The full specs are here.
On the colour front, punters get a choice between "Tropical Green," "Glacier White," and "Interstellar Grey." Regardless of what hue you opt for, the phone's reflective rear manages to collect fingerprints like an extra in CSI: Miami.
The Redmi Note 9 Pro arrives at an awkward moment in the phone sector. On one hand, competition has never been tighter, with Realme and TCL both entering the UK market within the past year. Compounding that, there's also a southward push from Apple. For just £150 more than the Redmi Note 9 Pro, you can get the iPhone SE 2020, which includes the same processor as the latest iPhone 11.
That notwithstanding, your Reg mobile correspondent wouldn't hesitate to recommend this device, which offers incredible value for money. The Redmi Note 9 Pro delivers strong performance, exceptional battery life, and a camera that easily surpasses its rivals in the same category. ®