This article is more than 1 year old
Fasten your seat belts: Brave Reg hack spends a week eating airline food grounded by coronavirus crash
Mmmm... microwaved protein chunks in spiced slurry – with rating by top analyst
Special report Businesses everywhere are thinking on their feet to mitigate the effects of the COVID-19 pandemic. That includes global airline catering outfit Gategourmet, which started selling the food it usually packages for consumption on airplanes as take-home ready meals, priced at the astounding rate of 10 dishes for AU$25 (US$17, £14).
Reader, I was unable to quell my curiosity.
Which is how I found myself at Gategourmet's mega-kitchen in the industrial badlands near Sydney Airport. Perched next to Australia's most-polluted waterway, a location it shares with a nearby Equinix data centre, the facility boasts a colossal car park that was largely empty and housed some of the massive trucks that roll up to planes to disgorge comestibles – a probable casualty of the massive drop in airline traffic.
This was part of the justification for my curiosity. Gategourmet may be a supercolossal multinational entity, but its kitchens are just 3km from my door and many of its workers and suppliers are local. Surely it was my duty to eat its stuff, just as I had studiously – no, heroically! – patronised local breweries, bakeries, patisseries and cafes that traded during lockdown.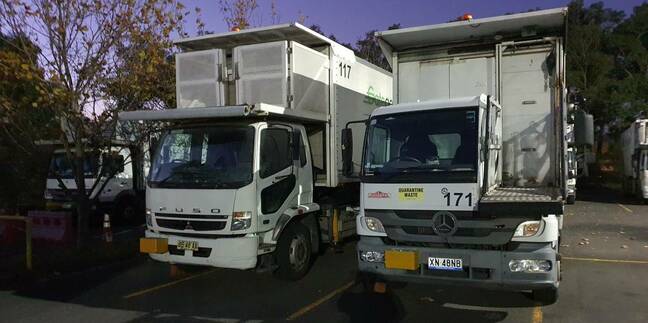 Airline food dispensing trucks in the Gategourmet car park. Click to enlarge
[Does the one on the right say 'quarantine waste'? – ed.]
And because Register readers demand tests that use some sort of method in the same neighbourhood as science, I challenged myself to eat it every day for a week. I even roped in some second opinions among folks who saw the comic potential of this plan: fellow tenants in our Australian office and one of my kids said they'd sample the fare.
So after filing my final Reg copy for the day, I headed off to the kitchen and found staff remarkably chirpy under the circumstances and a small queue of my fellow culinary masochists. As we waited for our food to be retrieved, we cheerily discussed the irony of paying for meals that are usually consumed grudgingly.
A mysterious menu
The food arrived in an utterly nondescript plastic bag that spoke of haphazard assembly rather than Gategourmet having hatched a cunning plan.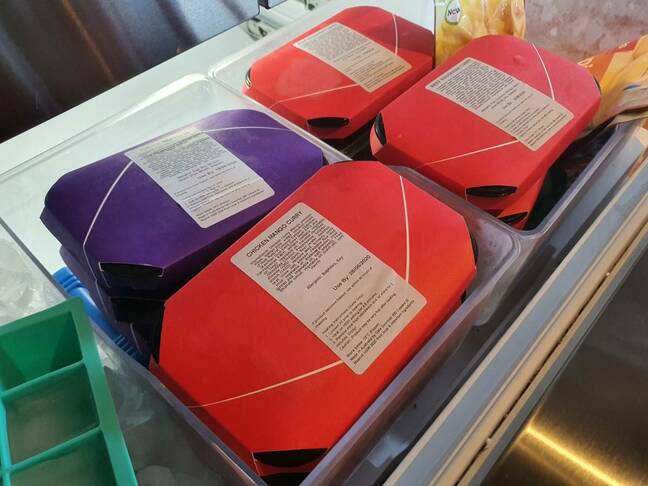 10 frozen airline meals tucked into my freezer. Click to enlarge
Gategourmet didn't reply to multiple emails about its reason for the sale, but once I got the meals home, a likely rationale revealed itself: the trays in which they rested were marked with the insignia of Virgin Australia, the local outpost of Beardy Branson's aviation empire that has just gone into administration.
I initially suspected that Gategourmet has freezers full of stuff that Virgin Australia can't or won't pay for, so went looking for anyone who would. But there appears to be real demand for meals at these prices because at the time of writing Gategourmet advised that "Due to a high volume of orders" it could take four or five days before the frozen goodies are available.
Those un-returned emails mean I remain in the dark about whether the company can make a profit at AU$2.50 a meal, if that price is anywhere near what it charges to airlines, or any other details.
What I do know is that I ended up with three types of meal:
Beef massaman curry
Mango chicken curry
Tom yam rice
The long haul
So how did I go across the week? Here's my diary.
Day One: Beef massaman curry For those unfamiliar with the dish, this is a slow-cooked affair that places big chunks of beef and potato in a spicy gravy. Gategourment's version was so sweet it almost tasted like satay sauce. However, the beef was nicely tender. The accompanying Chinese broccoli had soggy stems but decent leaves. The rice was odourless but was served in sufficient quantity to soak up the extra gravy. The long, long list of ingredients included sulphites and some thickening agents that triggered mucus-making parts of my anatomy and left me feeling in need of a good sweat to rid my body of things it doesn't appreciate.
I ate this one in the office, now that I'm allowed in, and the odour quickly killed off my co-tenants' enthusiasm for the project.
Verdict: Wouldn't leave you feeling horrible in the air, but wouldn't cut it groundside under any circumstances.
Day Two: Tom yam rice The name implied some sort of fancy Thai take on fried rice, yet this was, straight-up, just rather sweet fried rice. I quite liked this one and even ate a second meal, partly because the portion was small and partly because I enjoyed it. Sure, the peas went a little leathery after being microwaved to life. And I did have to negotiate a classic airline food mystery substance: was that odd yellowish porous lump a piece of egg or an unspeakably abused cauliflower fragment? Looking at the ingredients list just gave me another near-allergy experience.
Verdict: Would buy from supermarket as a work-from-home lunch option. Would also hide in far recesses of freezer to avoid criticism by family.
Day Three: Invited a guest to try the frozen fare: Gartner research veep Michael Warrilow. A fellow aviation enthusiast and frequent flyer who has attained membership tiers denoted by exotic metals, Warrilow offered us a personal view of the meal, to whit: "This brings back precious memories of untold long-haul economy travel, nestled between a 150kg snorer and a screaming baby. My colleagues and I will be availing ourselves of this service."
He also offered two analytical takes on the meals:
"The flavoursome massaman beef was expertly microwaved by El Reg's reporter, making it a contender in this week's Magic Quadrant for Lunch-as-a-Service. Looking to 2023, it has a real shot of taking flight into the leader's category."
"In a recent survey, two out of three analyst respondents (hence frequent flyers) indicated a craving for what is otherwise now unattainable cuisine. This offering will fill that market need and is destined to take off."
Day Four: Mango chicken curry For years I've jokingly described bad airline food as "protein chunks in spiced slurry". This dish nailed the brief. While the sauce did taste of mango, the flavour surely came from the world's tiredest, oldest, lowest-quality mango that could only be bothered making a token effort to taste like mango for the briefest moment possible. Then it blanded out into a sludge of over-cooked and oddly sweet chicken. As a child of the 1970s, I have a fear of savoury dishes involving fruit, and this one invoked bad memories of apricot chicken casseroles and prunes put in places they should never have been allowed.
Verdict: Whatever happens to Virgin Australia, I won't fly it just to make sure I never encounter this dish again.
Day Five: A Saturday on which, as I reached into the freezer to pull out a frozen meal, my family all let me know that if I stunk out the house with that rubbish, I'd be sleeping outside.
Day Six: See Day Five, above, and replace "Saturday" with "Sunday".
Day Seven: Massaman curry and Tom yam rice With two meals left in the office freezer and one day left in the challenge, I took the plunge and ate both.
Neither had improved and even though the lunch cost me just $5 – 50 cents more than a large coffee – as I shovelled them in, I wondered if I could trash the remaining chicken curries left in my home freezer without being ridiculed or scoring bucketloads of bad karma for wasting food.
I finished the meals with admiration for the chefs who make such neat little nuggets of nosh, a desire not to eat any such food for quite some time, and guilt that I'd thrown away quite a lot of packaging.
But the experiment was in no way any sort of substitute for travel. And as an under-restrictions wheeze it was less fun than just one of the remarkable raspberry custard-filled almond croissants that have become part of my plague-time economic stimulus effort.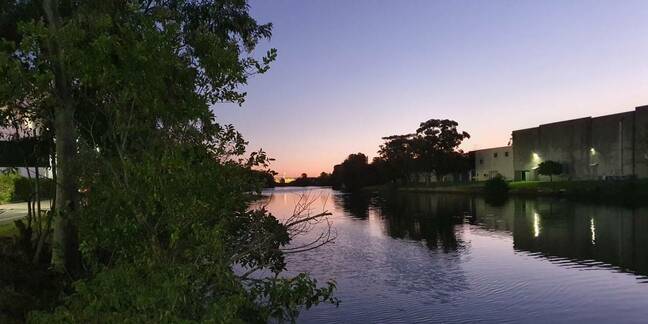 Australia's most-polluted waterway: Alexandra Canal in central Sydney. Click to enlarge
I was, however, pleased to have had a glimpse of a corner of my home city I'd not seen before, and a peek into some usually inaccessible slices of its life. That glimpse was sustaining because while international travel is currently not an option for Australians and even some of our internal borders are closed, I got a reminder that there are plenty of new sensations I can find on my doorstep, and plenty of old sensations I really should know to avoid. ®