This article is more than 1 year old
US govt: Julian Assange tried to recruit hacker to steal hush-hush dirt and we should know – the hacker was an informant
WikiLeaker accused of tapping up LulzSec's Sabu as a source
Prosecutors in the US have upgraded their case against Julian Assange with a second superseding indictment claiming he sought out the services of a notorious hacker who, unbeknownst to the WikiLeaks boss, was secretly working with the Feds.
The Department of Justice this week added yet more material to its indictment against Assange, which accuses him of 18 counts of espionage and hacking. The latest filing does not add any charges, though it includes evidence of Assange asking hackers to steal sensitive and scandalous dirt from government systems for WikiLeaks to disseminate. This could blow a hole in Jules' I'm-a-journalist-not-a-spy defense.
In the filing [PDF], it is said Assange worked directly with Anonymous and LulzSec miscreants in a quest to obtain US government documents and publish them on WikiLeaks.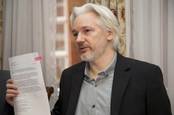 London court tells Julian Assange: No, coronavirus is not a good reason for you to be let out of prison
READ MORE
In one instance, prosecutors alleged, Assange employed the services of LulzSec to get files out of a server belonging to an unspecified NATO-member government. Among those who Assange was said to have directly contacted was Hector "Sabu" Monsegur.
Monsegur was the head of LulzSec, and a single father from the Bronx. Under threat of losing his children, he turned informant after being collared in 2011, and helped the Feds dismantle the crew. He was still operating in 2012 when Assange is alleged to have asked him to hack organizations for confidential information.
In fact, it is claimed Assange asked both LulzSec hacker Jeremy Hammond and Sabu to help him obtain a number of sensitive documents belonging to various three-letter agencies in Washington DC. The indictment states at one point Hammond and Sabu worried they would not be able to meet the expectations of Assange to exfiltrate and provide material for publication.
"On February 28, 2012, Hammond complained to Sabu that the incompetence of his fellow hackers was causing him to fail to meet estimates that he had given to Assange for the volume of hacked information that Hammong expected to provide WikiLeaks, writing 'can't sit on all these targets dicking around when the booty is sitting there, especially when we are asked to make it happen with WL'," the indictment reads.
Going after journalists
Also in Assange's crosshairs was the New York Times, which was said to have been listed by the WikiLeaks boss as a priority on par with the top US intelligence agencies. "To focus the hacking efforts of the hackers associated with Sabu, Assange told Sabu that the most impactful release of hacked materials would be from the CIA, NSA, or the New York Times," the indictment reads.
This all allegedly took place after Sabu's arrest, so anything he did would have been directly disclosed to the FBI. Hammond was collared in 2012.
Also named in the superseding indictment were a pair of Anonymous-affiliated hackers: the aliases Kayla and Laurelai. With the help of a person the prosecutors would only describe as Teenager, it is alleged Assange sought out both hackers to help swipe material for WikiLeaks. This led to the 2011 hacking of corporate intelligence biz Stratfor and subsequent, highly embarrassing publication of its confidential records and files, it is claimed.
Kayla was later revealed to be the persona used by Brit hacker Ryan Ackroyd, while Laurelai was eventually tracked down to a woman in Iowa. She was not charged with any crimes.
Assange remains in the UK's Belmarsh Prison awaiting extradition to America to stand trial in an eastern Virginia federal district court. ®