This article is more than 1 year old
California Attorney General asks judge to force Lyft and Uber to classify drivers as employees – or else
Request for injunction raises pressure on cash-burning ride hailing apps
California's Attorney General and the City Attorneys from Los Angeles, San Diego, and San Francisco have asked a judge to force ride-hailing services Lyft and Uber to classify their drivers as employees.
Lyft and Uber, which remain very unprofitable, have been defining their drivers as independent contractors (ICs). Doing so costs such companies about 30 per cent less than classifying staff as employees because then they're not responsible for expenses like insurance, vacation, and certain taxes and legal obligations if they just employ ICs.
California, in keeping with its state supreme court's 2018 Dynamex decision, moved to clamp down on worker cost avoidance with Assembly Bill 5 of 2019 (California Labor Code section 2750.3), which prevents employers from classifying workers as independent contractors based on the number of hours worked and their role.
AB5 took effect in America's Golden State on January 1, 2020. After Lyft and Uber failed to change how they classified drivers, state and city attorneys sued in May.
The two app-based taxi companies, and other app-coordinated services that prefer to hire workers as ICs like DoorDash, Instacart and Postmates, are promoting a ballot measure for the November election that would exempt gig workers from the AB5 rules.
Earlier this month, San Francisco District Attorney Chesa Boudin sued app-based delivery biz DoorDash for misclassifying its drivers as ICs.
Beyond condemning worker misclassification as a denial of financial and workplace safeguards due under the law, Boudin at the time said the practice harms law-abiding companies that have to compete against firms unfairly saving money and deprives the state of payroll taxes that support unemployed and injured workers.
The gloves come off
In an escalation of their May lawsuit, California Attorney General Xavier Becerra, Los Angeles City Attorney Mike Feuer, San Diego City Attorney Mara W. Elliott, and San Francisco City Attorney Dennis Herrera on Tuesday asked for permission to file a motion for a preliminary injunction.
They received approval from the San Francisco Superior Court Judge Ethan Schulman on Wednesday. The motion, yet to appear in the court docket, seeks to compel the ride hailing firms to comply with the law.
"Misclassifying your workers as 'consultants' or 'independent contractors' simply means you want your workers or taxpayers to foot the bill for obligations you have as an employer — whether it's paying a legal wage or overtime, providing sick leave, or providing unemployment insurance," said Bercerra in a statement.
"That's not the way to do business in California. We're seeking a court order to force Uber and Lyft to play by the rules."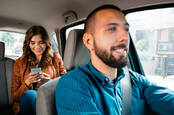 The gig (economy) is up: New California law upgrades Lyft, Uber, other app serfs to staff
READ MORE
A hearing on the motion, when the judge will decide whether or not to grant it, is scheduled for August 6, 2020. If the injunction is granted, Lyft and Uber could be forced to comply before voters consider the exemption sought by the companies. And the companies suggest the consequences will be severe.
Uber estimates that if California's legal action is successful, it will "threaten 158,000 additional work opportunities each quarter for Californians who earn using Uber." The ride-hailing biz also projects that trip costs would increase by anywhere from 25 per cent to 111 per cent.
"The vast majority of drivers want to work independently, and we've already made significant changes to our app to ensure that remains the case under California law," an Uber spokesperson said in a statement emailed to The Register.
"When over three million Californians are without a job, our elected leaders should be focused on creating work, not trying to shut down an entire industry."
Lyft echoed that position, arguing that the voters – as opposed to the the elected officials put in place by the voters who passed AB5 – should decide.
"Trying to force drivers to give up their independence 100 days before the election threatens to put a million more people out of work at the worst possible time," a Lyft spokesperson said in a statement emailed to The Register. "It would be incredibly harmful to millions of people and the California economy to grant this motion 100 days before the voters decide, and we will oppose this motion."
Lyft argues that AB5 is poorly drafted and has destroyed thousands of jobs.
"If the courts were to grant the Attorney General's request, it would have a devastating effect on millions of Californians at the worst possible time," Lyft's spokesperson said.
"Our ballot measure fixes the Legislature's mistake, protects millions of Californians who rely on rideshare and on-demand delivery services, independent contractors and small businesses struggling to get through COVID. Our ballot measure has strong support among voters, drivers and millions of customers and we believe the voters should be allowed to decide this issue in November." ®