US Department of Defense releases list of firms allegedly linked to the Chinese Army. Surprise surprise, Huawei makes an appearance
On a scale of 1 to 10, how shocked are you?
---
The US Department of Defense (DoD) has confirmed it placed Huawei on a list of organisations with ties to the Chinese military that trade in the US. While this doesn't have an immediate impact on the firm's business, it opens the possibility for further punitive sanctions down the line.
Other businesses that appeared on the list [PDF], which was first obtained by Republican Arkansas Senator Tom Cotton, include the China Railway Construction Corporation, the China Telecommunications Corporation, and Hikvision, a publicly listed (but state-controlled) manufacturer of video surveillance technologies.
The DoD has been obligated to list suspected People's Liberation Army-linked businesses since 1999, as part of that year's National Defense Authorization Act. This obligation stems from the then-imminent accession of China into the World Trade Organisation, which ultimately turbocharged the Chinese economy, and tipped the scale of international power.
The sitting US president has the power to place crippling sanctions on businesses appearing on the list. These powers, outlined in the Carter-era International Emergency Economic Powers Act, include exclusion from the US financial system, as well as the freezing of assets held within the United States.
As of yet, the Trump Administration has not employed any of these measures, which would undoubtedly complicate the already-frosty Sino-American relationship.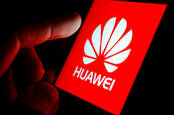 Huawei's EMUI 10.1 update shows Chinese mobile giant hunkering down for the long haul without Google wares
READ MORE
This disclosure is yet another sign of pressure on Huawei. Since May 2019, the Trump Administration has listed the Chinese telecommunications giant on a Treasury Department "entity" list, preventing US firms from trading or transferring technology to it without first obtaining government permission.
The Trump Administration has also exerted stiff pressure on its allies, including the UK, to limit Huawei's involvement in domestic cellular and broadband network systems — most notably the upcoming 5G networks. Many have argued this move is more about trade and a national race to dominate next generation networks than it is about security. There's also the matter of Huawei's gear being cheaper than Western kit.
The Chinese firm continues to insist it is an independent private entity, operating separately from the Beijing government. In a recent conversation with The Register, Huawei UK board member Sir Kenneth Olisa expressed frustration about this enduring perception, arguing that nobody regards BAE Systems as an extension of Westminster. The Reg might note however, that BAE doesn't operate within a state run by a single governing party, with no free press.
Huawei has been contacted for comment on this story ®.