This article is more than 1 year old
Sorry to drone on and on but have you heard of Ingenuity? NASA's camera-copter is ready to head off to Mars
From the belly of Perseverance comes a revolution in Red Planet exploration
Vid NASA this week championed its autonomous helicopter Ingenuity, which is next month due to blast off to Mars attached to its buddy, the Perseverance rover.
Ingenuity measures 1.2 metres (4ft) across, and is neatly folded and stowed away underneath Perseverance. The flying gizmo weighs just under two kilograms (4lb), and sports two rotor blades, a solar panel, an antenna, a computer system, cameras, and batteries.
NASA scientists have concluded tests to make sure the drone is able to detach itself from the Martian trundle bot and fly away once they are deployed on the Red Planet. A NASA video showing off Ingenuity is below.
"Ingenuity is unlike any other helicopter ever built because powered controlled flight at Mars is unlike anything ever attempted," said MiMi Aung, project manager of the Mars Helicopter at NASA's Jet Propulsion Laboratory, on Tuesday. "And then we had to figure out how to hitch a ride and safely get deployed from the Mars 2020 Perseverance rover."
Chris Salvo, the helicopter's interface lead, added: "The Ingenuity Mars Helicopter is a large, fragile, unique assemblage of hardware that is dissimilar to anything NASA has ever accommodated on a planetary mission."
Deploying it will be tricky: when a protective shield falls away and Ingenuity is dropped to the Martian surface from Perseverance's belly, it'll have just 12 centimetres of clearance space from the rover. The bot will then roll on, freeing Ingenuity to take to the skies.
"That is not a lot of room to play with," said Salvo, "but we found if you attach the helicopter horizontally, there is enough to get the job done."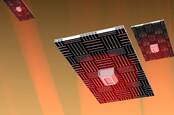 I've seen things you people wouldn't believe. Light-powered nanocardboard robots dancing in the Martian sky searching for alien life
READ MORE
Ingenuity will be released about two months after Perseverance lands on the Red Planet in February next year – once a flat enough piece of terrain is found. The helicopter is the first gizmo of its kind to fly on any extraterrestrial planet, and is highly experimental – ie: it may break quickly. It will be used to scout out terrain ahead of the rover, and take photos of sites of interest with 90-second flights between recharges from its solar panels.
The Americans reckon future missions to Mars may carry larger, more powerful helicopters that could aid astronauts or even explore potentially more dangerous sites such as cliffs, caves, or craters. "But before any of that happens, a test vehicle has to prove it's possible," the boffins said.
NASA has a small window of about two months to send Perseverance and Ingenuity off to Mars. It announced on Thursday it had pushed back the launch date by two days, and is now targeting July 22 to send both vehicles into space atop an Atlas V rocket from the Cape Canaveral Air Force Station. ®