This article is more than 1 year old
Wanted – DRAM or alive: US Feds bag arrest warrants for three Taiwanese accused of stealing Micron's mem secrets
Former employees missed court appearence, maybe because a Taiwan court already found two of them guilty
The US Justice Department has been granted arrest warrants for three Taiwanese nationals charged with stealing semiconductor secrets from US-based Micron Technologies.
The three men – Chen Zhengkun, a.k.a. Stephen Chen; He Jianting, a.k.a. J.T. Ho; and Wang Yungming, a.k.a. Kenny Wang – were indicted in 2018 for allegedly participating in a conspiracy to steal trade secrets that involved their employers, Taiwan-based chip maker United Microelectronics Corporation (UMC), and China-based state-owned Fujian Jinhua Integrated Circuit, Co., Ltd. (Jinhua).
Chen is a former president of Jinhua who worked previously at UMC; Ho and Wang are former employees of UMC. All three worked previously at Micron Memory Taiwan Co., Ltd., a subsidiary of Micron Technologies.
The three men were supposed to be arraigned – appear before the court for the formal presentation of charges – on Wednesday. After they failed to show up for their hearing, the government prosecutors asked for and received arrest warrants from the judge.
Assistant US Attorney Laura Vartain Horn didn't immediately respond to a request for comment. Both Jinhua and UMC have pleaded not guilty.
Two weeks ago, a court in Taiwan found UMC and three former employees – two of whom were Ho and Wang – guilty of stealing Micron's trade secrets, according to Taiwan News.
UMC, ordered to pay a fine of TWD$100m ($3.4m), has said it intends to appeal and the individuals involved may do so as well. Ho received a sentence of five years and six months in jail and was fined TWD$5m ($170K); Wang received a sentence of four years and six months and was fined TWD$4m ($136K); the third, Rong Le-tien got six years and six months, with a fine of TWD$6m ($203K).
This may have something to do with Ho and Wang missing their US arraignment. In an event, neither China nor Taiwan have extradition treaties [PDF] with the US, so it's unlikely they'll appear in a US court anytime soon.
Between 2016 and 2018, according to the US government's indictment [PDF], the men were involved in stealing trade secrets related to the production of DRAM supposedly worth between $400m and $8.75bn. The secrets were technical data related to the design and manufacturing of Micron's DRAM products and were allegedly stolen via email and Google Cloud uploads.
Jinhua, UMC, and Ho, the DoJ claims, filed five patents and a patent application in 2016 and 2017 containing secrets taken from Micron. Coincidentally, UMC in 2018 filed three patent infringement claims in a Chinese court against two Micron subsidiaries based in China and won an injunction.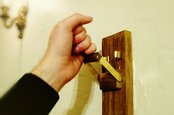 Taiwan's UMC winds down DRAM project after Micron IP tussle
READ MORE
According to an SEC financial filing in April, UMC said the Chinese court has approved the withdrawal of one of the claims while two continue to be litigated. The filing also notes that the impact of the DoJ lawsuit remains uncertain.
That was before the court in Taiwan found the company guilty.
Micron meanwhile has civil litigation against the companies that has been put on hold pending the resolution of the US government's criminal case.
The DoJ case was filed in 2018 as part of its "Initiative to Combat Chinese Economic Espionage" under then Attorney General Jeff Sessions as the US-China trade war was escalating.
It followed three cases of people charged with spying for China in 2017. Since the launch of that initiative, there have been more than 20 criminal espionage, trade secret, and export control cases brought by the Justice Department.
Jinhua in 2018 was placed on the US Commerce Department's Entity List, which forbids US companies from doing business with the designated firms. It's still there. ®