Finding SAP hard to swallow? ERP giant says it's working on something more bite-sized
The PowerPoint presentation is nice and all, but the proof is in the eating
SAP is striving to rid itself of its reputation as a provider of monolithic ERP systems that are highly embedded in the business but difficult to change, plus costly and time-consuming to upgrade.
Speaking to The Register during the second week of its Sapphire Now virtual conferences, SAP HANA and analytics president Gerrit Kazmaier said cloud computing was prompting a rethink of its previous architecture.
"What we're designing towards is highly modular, very small consumable pieces of software that can be freely combined. If you think about running processes and running applications, the whole notion of ERP in the cloud will evolve around being a business platform and adding the next as-service to the platform and infrastructure."
The idea is not new. SAP has been trying to shed this image for at least five years, backing Gartner's somewhat overblown vision of a "postmodern" ERP system.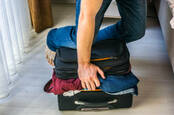 SAP bet the house on S/4HANA but most users aren't ready to move
READ MORE
But perhaps now the time has come. The Americas' SAP User Group has pointed out that customers are not ready for big upgrades right now. Something about being in the middle of a global pandemic and an economy very much in flux is discouraging them from making a big platform shift. Even before COVID-19 dominated the agenda, customers were reluctant to upgrade to its latest ERP system, S/4HANA.
At the same time, SAP has been broadening its approach through the acquisition of CRM, supply chain, and customer analytics systems over the last few years. Add to that the set of industry-ready solutions in the cloud it launched last week.
SAP is also reckoning with the growth of SaaS applications for CRM, HCM and finance – where companies like Salesforce and Workday play – as well as a whole menagerie of reporting and analytics tools.
Kazmaier said SAP is thinking that its HANA analytics database, ERP, line-of-business and industry applications will slot into this scene without replacing it.
"There is an existing system landscape and you also need to recognise that it is an ecosystem. It needs to work whether the data is in HANA or not and it needs to work if you are choosing our analytics cloud or different reporting and analytics client. And so open interfaces and open standards are a key part of the strategy. We want each of those elements to be a choice."
The same goes for HANA – an in-memory database that SAP sees as a home for analytics no matter where the data comes from: rival enterprise applications or data warehouses, for example.
This is all well and good as a vision, but businesses need to see how it works together.
Paul Saunders, Gartner senior research director, said: "They say the right things. SAP is very innovative in PowerPoint. The challenge with it is they actually need to be able to execute."
SAP's strength lies in its ability to handle complexity in process and supply chains in the core industries in which it first became popular – such as aerospace or automotive – but that is also its weakness. ERP was seen as the "ugly baby" because once embedded in a company, all the vendor could offer was another upgrade, Saunders said.
But the economy is changing and the economic impact of the COVID-19 pandemic may accelerate these changes.
For SAP, the problem with providing core ERP, line-of-business and industry-specific solutions is that they may not appear fit for where the economy is heading. Saunders used the example of Amazon, which appears to be a retailer, a logistics firm and a computing-as-a-service company. How would one define an industry solution for such a beast?
Saunders said SAP has the technology to help companies navigate the changing economy – in the analysis of supplier networks, for example – but to win in this new landscape, it needs to become easier to engage with.
"It is so hard to understand how all these pieces fit together," he added.
As SAP diversifies and offers a more modular version of its previously monolithic software, the question remains whether it offers bite-sized nuggets or a jigsaw that's tough to put together. ®