This article is more than 1 year old
Spare some change, guv? UK's CCTV regulator pitches for £100k budget increase
8-strong national body asks government for cash to hire 2 more
"A consistent refrain I recite at the many conference speeches, media interviews and workshops I attend is the importance of transparency and openness in the use of public space surveillance," said Surveillance Camera Commissioner (SCC) Tony Porter in his most recent annual report.
Published late last week some 18 months after the previous edition, the report for 2018-2019 revealed that some surveillance camera operators had described Porter's office as a "security risk".
Referring to Surveillance Camera Day 2019, when the commissioner urged spycam operators to put on "doors-open" events for the public to see how surveillance tech was being used against it, Porter lamented that some were still addicted to their little dark rooms of secrecy.
"Some organisations thought that they could not take part as they were concerned they would be opening up control rooms to people they did not want in them (e.g. criminals)," he wrote. "Some went so far to say we should not be promoting the initiative and that it was a security risk."
Referring to the Biometric Strategy 2018, he said: "Progress on this is glacial and the Bridges v South Wales Police high court case (use of AFR) provides compelling arguments for Government to advance this work in the public interest as soon as is practically possible."
That case went to the Court of Appeal last week, as we reported in depth, with judgment expected later this year. In the SCC's legal submissions, barrister Andrew Sharland QC suggested it would be unlawful for police to take over existing CCTV camera networks and attach AFR recognition software to them.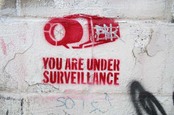 Brit police's use of facial-recognition tech is lawful, no need to question us, cops' lawyer tells Court of Appeal
READ MORE
Otherwise, the annual report repeated a number of previously reported calls for the Surveillance Camera Code, issued by the SCC, to be legally binding on more categories of organisations; Porter highlighted again how parish councils are subject to it while supermarket chains, whose CCTV systems "invade upon the everyday life of citizens", are not.
The SCC office is staffed by eight people; the report called for a £100,000 budget increase to cover marketing and legal advice expenses, with Porter pointing out that the SCC does not have access to the Home Office's extensive in-house legal department.
"One thing is certain, existing surveillance laws will continue to be challenged as technical capabilities grow and State compulsion to use them grows. However, it remains incumbent upon the State to demonstrate that they are operating ethically and in accordance with the laws that govern such use," Porter concluded.
The full report can be read here as a 66-page PDF. ®