This article is more than 1 year old
Leaked benchmarks from developer kit for Apple's home-baked silicon appear to give Microsoft a run for its money
Before you get too excited 1) They're benchmarks 2) New consumer Arm-based Macs might use something else
Benchmarks from the Mac Mini-based Developer Transition Kit powered by Apple's homegrown silicon have started to appear on GeekBench, showing competitive performance despite the inevitable hit from Cupertino's Rosetta 2 compatibility software.
At the time of writing, 22 Geekbench 5 benchmarks have been submitted. That's noteworthy by itself, as users of the Developer Transition Kit - who paid $500 to borrow the device from Apple - are contractually prohibited from sharing performance data and other benchmarks without Apple's prior approval.
The GeekBench data shows single-core performance hovering between 800 and 850 points. Multi-core performance is just under the 3,000-points mark. These scores were generated with the benchmark software running under Apple's Rosetta 2 compatibility software, which translates instructions written for the Intel x86-64 architecture for the arm64-based A12Z SoC used by the Transition Kit.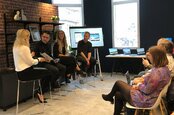 Microsoft Surface Pro X: Windows on Arm usable at long last – but, boy, are you gonna pay for it
READ MORE
That's roughly on par with Microsoft's Surface Pro X tablet, which runs the Arm-based SQ1 platform, co-developed by Microsoft and Qualcomm, and based on the Snapdragon 8cx chip. The key difference here is that the Surface can execute the Geekbench software natively, while there's presently no Mac Arm port available, forcing owners of the Transition Kit to run the software in emulation.
Interestingly, Geekbench notes that the chip running on the Transition Kits has four cores, while the variant of the A12Z used on the iPad Pro is an octa-core affair – with four high-performance and four low-power cores.
Another point worth noting: there's no guarantee the A12Z chip in the Developer Transition Kit will appear in the first consumer Arm-based Macs, which are expected to land later this year. It's plausible that Apple will use a different chip entirely for its debut Arm-powered effort. ®