This article is more than 1 year old
Details of Beijing's new Hong Kong security law signal end to more than two decades of autonomy
Legislation to root out subversion, terrorism and collusion with foreign forces following year of civil unrest
China's mainland government has enforced a sweeping national security law in Hong Kong, increasing its hold on the territory in what HK's chief exec, Carrie Lam, has described as the "most important development" in the former British colony's history since its handover.
The measures were rushed through China's top legislative body, the Standing Committee of the National People's Congress, earlier this week and signed into law by President Xi Jinping late last night with immediate effect.
The law will punish acts of secession, subversion, terrorism and collusion with foreign forces. It follows a year of unrest in Hong Kong which sometimes broke out into violent clashes between police and protesters. Beijing has long accused other countries of exacerbating the demonstrations.
Violations can result in extradition to China for trial with a maximum sentence of life in prison. Chinese state security agencies will also operate in Hong Kong for the first time, and the local police force will be able to intercept communications and spy on suspects, with the approval of Hong Kong's chief executive.
The legislation will apply not just within inside Hong Kong but overseas too, meaning foreign nationals who speak against Beijing could be prosecuted upon entering Hong Kong or mainland China.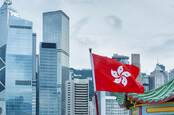 Beijing's tightening grip on Hong Kong could put region's future as an up-and-coming tech hub in jeopardy
READ MORE
The law is bad news for Hong Kong's 129,600 IT workers, many of whom work in the financial services sector. Locals worry that the new legislation will cause a mass exodus of expats from the territory, resulting in a "brain drain".
How zealously will the mainland government implement the law? Hongkongers were given a taster today when the first arrest under the new law was made against a man holding a Hong Kong independence flag in the central Causeway Bay neighbourhood.
Here are some other highlights from the 35-page document (translation here):
Terrorism charges include interruption of transportation networks
Collusion provision includes advocates of foreign sanctions
Subversion includes overthrowing Hong Kong government organs and attacking its offices
Violators are barred from seeking or holding public office for an unspecified period
Gives Beijing power to prosecute "complex" cases relating to foreign influence or other "serious circumstances"
Allows closed trials in cases involving state secrets or other subjects "not fit for open trial"
Allows justice minister to opt out of jury trials in some cases
Grants immunity to Chinese agents performing duties in Hong Kong
Calls for stronger "management" of news agencies and foreign NGOs
Beijing imposed the law as a annex of the Basic Law, Hong Kong's pseudo-constitution, thus bypassing the territory's own legislature and threatening autonomy under the "one country, two systems" formula in place since its handover from the British in 1997.
The law will also give the mainland jurisdiction over an "extremely small" number of national security cases, according to reports from state-run news agencies. The territory's chief executive, who is selected by a committee of 1,200 Beijing politicos, will decide which cases to turn over to Beijing's courts and appoint the judges that preside over related local cases. Under the previous system, judicial assignments were made by the judiciary.
Lam said earlier this month that she would not select the judges herself but appoint a panel of judges for all courts based on recommendations from a judicial body.
"This legislation is considered the most important development in the relationship between the central and Hong Kong governments since the handover, and is a historic step in improving the mechanisms to safeguard the country's sovereignty, territorial integrity and security," Lam said at a press conference today.
Li Zhanshu, chairman of China's top legislative body, repeated assurances that the law would "punish extremely few while protecting the majority". Zhang Xiaoming, deputy director of the Hong Kong and Macau Affairs Office, called the law a "'sword of Damocles' hanging above extremely few criminals who are severely endangering national security". He added that the law "will deter foreign forces who try to interfere with Hong Kong affairs. The law is a turning point to put Hong Kong back on its track."
Australia's foreign minister, Marise Payne, said: "Australia is troubled by the law's implications for Hong Kong's judicial independence, and on the rights and freedoms by the people of Hong Kong, both of which underpin the city's success."
Dominic Raab, the UK's foreign secretary, said the new law was a "grave step, which is deeply troubling." The UK said last month it would prepare a "pathway to citizenship" for as many as 3 million Hongkongers who are eligible to apply for British National (Overseas) passports. Japan is considering drawing up a similar deal.
The US Commerce Department said on Monday that it would stop the export of weapons and sensitive tech to the region over concerns that they could be obtained by the Chinese military. One observer told The Reg earlier this week that the "US response can hurt Hong Kong more than what China is doing".
Washington is also considering revoking other special privileges that is has offered the territory. ®