This article is more than 1 year old
'Google cannot stop it, control it or curtail it...' Inside the murky world of fake addiction treatment center search spam
Is that listed phone number going direct to a professional or a call center?
Special report Addicts seeking substance abuse treatment are being deceived by phony medical clinics advertising on Google's business directory system – and the web giant seems unwilling or unable to fix the issue.
An investigator who asked to remain anonymous provided The Register with research detailing online advertising in the substance abuse treatment industry, including a review of Google search results listings and how they're informed by Google My Business data, which companies provide about themselves to identify their store locations and hours. It appears that many of these are just front organizations, intended to pick up people desperate for care and with the insurance to pay for it.
In terms of Google search ads, the substance abuse treatment industry – alcohol and drug detox facilities – is governed by standards set by Google, a contracted certification body called LegitScript, and a trade group, the National Association of Addiction Treatment Providers, because addiction can have serious health consequences, particularly when complicated by bad information.
The data provided to The Register suggests search results pages related to substance abuse are filled with bogus listings created by lead-generation companies – marketing firms trying to attract clients for addiction treatment. The idea is to get potential clients to call one of these fake treatment centers so the call can either be routed to a spammer-affiliated facility in the local area – or sold to a local provider.
In effect, spammers flood legitimate facilities off the map by blanketing the search results with fake listings that ultimately lead back to just one or two centers that actually physically exist. Thus, when someone tries to turn to a professional for help with their addiction, they invariably walk into the arms of the spammers.
Fakers are winning out
Among Google My Business (GMB) listings, which surface in the Maps and local searches, the top 20 results on June 3, 2020 for the keywords "alcohol detox," according to our source, included eight real businesses and 12 fake ones. Among the top seven, the most likely for users to engage with, only two were real.
The investigator, and another researcher who asked for anonymity due to lack of authorization to speak to the press and concern about spammer retaliation, identified more than 500 Google My Business spam listings in the substance abuse treatment market. These have been reported to the internet advertising goliath, and some have been removed though more are expected to follow.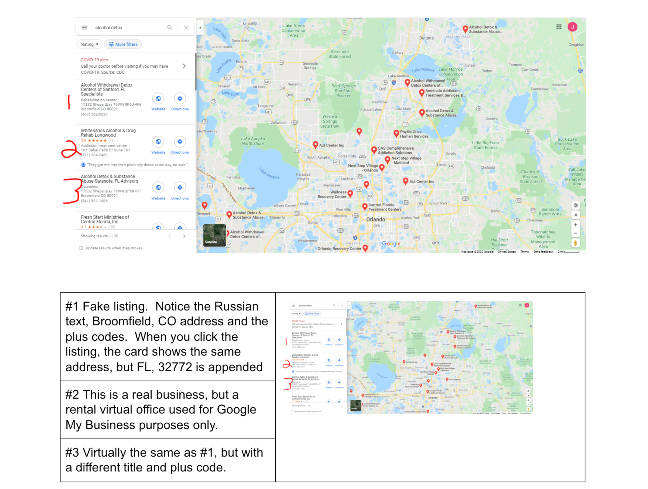 Examples of spammy Google Maps search results for treatment clinics in the US, annotated by a Register source ... Click to enlarge
Every spam listing that buries a legitimate organization lower on the search results page does at least some economic harm to the affected outfit, and has the potential to steer vulnerable patients toward subpar care.
Looking more specifically at 136 treatment providers in America – scattered across Orlando and Miami in Florida, Columbus in Ohio, Colorado Springs in Colorado, and Seattle in Washington – 11 were not certified but nonetheless advertising with Google Adwords, many with outdated LegitScript seals on their websites – LegitScript's seal is programmatically generated by a JavaScript call to LegitScript server and thus should not be an outdated static image.
This is not a new problem for Google. Last year, The Wall Street Journal reported on the millions of fake listings littering Google Maps, and the problem dates to at least 2007.
Nor is it new to the substance abuse treatment industry. In 2001, before most people had heard of Google, shady marketing practices for detox centers showed up in the Yellow Pages – for our younger readers, the Yellow Pages was a printed listing of businesses.
In a phone interview with The Register, Joe Youngblood, a digital marketer who runs an SEO firm based in Texas, said Google has never really taken local search seriously. When former exec Marissa Mayer went from veep of search to veep of local listings, he said, the view among industry insiders was that she'd been put in the dungeon.
"I think Google cares, I just don't think they care enough," he said.
To demonstrate the gap between Google Maps listings and reality, the investigator presented The Register videos, images, and screenshots related to a substance abuse treatment company called White Sands Treatment Center, which is based in Fort Myers, Florida, and has multiple locations throughout the state.
The investigator's materials, right now being reviewed by LegitScript, document three White Sands locations – Longwood, Winter Park, and Orlando in Florida. They show decidedly different facilities than those depicted in the pictures uploaded to Google My Business listings. This doesn't necessarily impugn the legitimacy of all White Sands facilities, but it suggests a violation of Google's advertising policies. The Longwood facility, for example, appears on Google to be a sizable office building.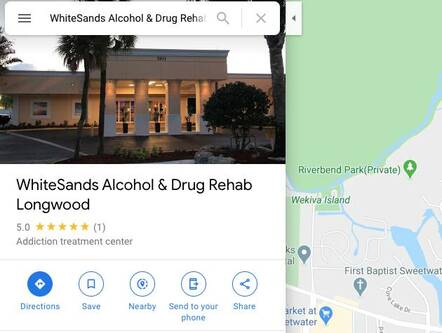 White Sands' Longwood location on Google Maps
The investigator's material indicates the facility is one of 11 offices in the building: suite 101, a 380-squarefoot space renting for $649/mo. What's more, the investor's video includes an interview conducted in June 2020, with the tenant next door, an employee for a chiropractor's office, who denies having seen anyone at the White Sands Longwood office since it opened in September 2019.
The situation is similar at other two locations, where what's advertised does not match the actual facility. The investigator's conclusion is that these locations do not provide the level of substance abuse treatment they claim, and that they appear to exist for lead generation – so people using Google Search and Google Maps will find the listings, call the advertised number, and be routed to another facility or provider.
Follow the money
Lead generation – attracting new customers – is particularly profitable in the substance abuse treatment industry, where clients looking for help with their addiction can be worth tens of thousands of dollars over the duration of treatment. Buying related keywords can be expensive – about $22 per click for "alcohol rehab" currently – and a sales lead or conversion can cost hundreds of dollars. The investigator we spoke with put the cost of purchasing a call from an interested client at $400 recently.
As a result, there's a strong financial incentive to game Google's systems to attract customers. Many companies do so legitimately, through Google-approved search engine optimization practices (SEO); others so by means of deceptive SEO, which involves spamming search listings and related practices.
The Register tried to contact White Sands Treatment Center to ask about how its facilities appear in Google search results. A call to the general number went to voicemail and remains unanswered. A call to the admittance number led to being forwarded to the voicemail of a woman who said she had left the company in June.
The researcher who helped gather and analyze the materials we reviewed claims that White Sands has engaged in a pattern of policy-violating SEO – spamming – to get people to call its facilities. Our source alleges that there are multiple purportedly independent treatment center websites appearing in Google search results that simply generate leads for White Sands, thanks to OverTheTop SEO – OTT lists White Sands as a client on its case studies page.
As an example, the investigator cited a search in Columbus, Ohio, that led to a listing titled "Alcohol Withdrawal Detox Center of Ohio," which since being identified appears to have been taken down. The investigator claims the address is actually a residential condo and the number accompanying the listing, when called, was answered by a White Sands representative in Florida.
When we tried calling the number, a voice message said to hold for an addiction treatment specialist. The person who answered said he was in Florida but insisted he wasn't with White Sands, without identifying any actual corporate affiliation. The Register tried to contact OTT SEO to ask about its SEO practices but no one has responded to our inquiries.
We asked the National Association of Addiction Treatment Providers whether it could provide any insight into White Sands, a National Association of Addiction Treatment Providers (NAATP) member. Peter Thomas, the association's director of quality assurance, said the organization could not discuss individual centers but acknowledged that deceptive marketing practices have been a major problem in the past few years.
"We've made significant progress in this area, and also recognize there is much more work to be done," he said in an email. "Many of the practices we were seeing have subsided, but with that, we see a handful of companies shifting their practices to exploit new loopholes or evade detection.
"It is sickening that in a field dedicated to helping people, there are those who continue to exploit a vulnerable population for personal enrichment, and by doing so not only undermining the recovery of those directly impacted, but also erode public confidence in the field making it less likely that those who need treatment will seek it."
Look, we're trying
A Google spokesperson told the The Register the company receives 20 million content contributions every day, and in 2019 removed more than four million fake business profiles due to "refinements in our machine learning models and automated detection systems." The search giant also said it removed more than 258,000 user-reported business profiles and disabled more than 475,000 user accounts.
The Register asked Google whether it could provide details about the rate at which fake profiles are being created, which would provide more insight into whether progress is actually being made. We've not heard back about that.
In any event, the spam continues. The researcher we spoke with said, "The major issue with this sort of spam is that Google cannot stop it, control it, curtail it, or keep their platform protected at all."
Earlier this month, there were reports that spam promoting dubious garage door businesses is out of control:
Garage Door Spam Gone Wild - hearing today that 1000's of new listings are popping up countrywide with the fake https://t.co/nLCADDcfb4 GMB listings in a few days. @GoogleMyBiz @dannysullivan (How you doing bud, been a while) - this should be an easy pattern to knock out. pic.twitter.com/TBSEZ7n1nW

— Ben Fisher (@TheSocialDude) June 8, 2020
Last year, it was locksmith store spam. And car accident lawyer spam.
In a post about the situation, Doug Bradley, who runs a legal market SEO firm, noted that Google eventually cleaned up the car accident attorney spam listings, but left his main question unanswered: "How is it possible that these listings often make it into the top '3 Pack' of Google local results, displacing legitimate law firms who've been around for decades?" he asked.
Content policing problems extend beyond Google's ad ecosystem. Malware is a persistent issue in the Google Play Store, and the Chrome Extension ecosystem has been rife with abuse, too. All the major social media platforms, like Facebook and Twitter, wrestle with the issue, without much success.
Part of the problem is unwillingness to hire enough employees to impose a degree of order that automated systems have been unable to provide. Chrome Extension developers have gone so far as to propose unionizing, and lately have asked Google to implement paid support because they're tired of being ignored.
In advertising, where Google makes the vast bulk of its money, the financial resources for hiring staff are there. And yet the Chocolate Factory invests elsewhere.