Cool IT support drones never look at explosions: Time to resolution for misbehaving mouse? Three seconds
Thinking in binary, dreaming in hexadecimal, and this is what they'll remember you for
On Call It is Friday so may we suggest taking a moment out of your preparations for a weekend charge to the pub to enjoy another tale from those tasked with helping the confused in today's On Call.
"Tom" spent the decades from 1985 to 2005 working for a large insurance broker. He had reached "the dizzy heights of 'Senior Technical Analyst Programmer'," as he put it.
With the responsibility for designing and building systems "from the humble (web-based asset tracking for an energy company who was a client) to the complicated (monitoring software for our servers and clients)," he reckoned his days of first-line support were long behind him.
"Just when I thought I was out, they pull me back in!" as Tom did not say to us.
We suspect Al Pacino never had to deal with direct user support, particularly that of the 1980s, "when coax, screwdrivers and 24x80 green-screens were the order of the day," according to Tom.
Fast-forward to the late 1990s. Windows was all the rage and those glorious green screens were a thing of the past.
"I was on my way to an 'important' meeting," explained Tom, "which meant passing through a user department."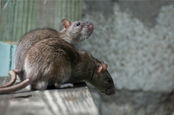 Beware the fresh Windows XP install: Failure awaits you all with nasty, big, pointy teeth
READ MORE
Among the army of the cursed was one of Tom's "most favoured" users ("lovely," he said, and "captain of the company darts team"). Knowing him to be a helpful sort, the user beckoned him over to help out with a colleague's problem. The colleague "had, of course, already tried to get desktop support involved a few times" but to no avail.
Pulling on his desktop support super-suit one more time, Tom agreed to help out.
As was the custom for the late '90s, the issue was mouse-related. In this case the rodent was of the optical variety but, even without a ball to get fuzzed, was behaving erratically. It "was sending its pointer at random all around the screen," recalled Tom.
His imaginary cape flowing behind him, Tom warned the user that he had but a minute to spare and whipped away the mouse mat, replacing it with a blank sheet of paper. With that, he went on his way without looking back or pausing to check the result.
The mouse mat was a reproduction of one Mondrian's busier emissions and replacing it, of course, cured the problem.
"My reputation as a general geeky mastermind was enhanced," he boasted. "Time to resolution? Less than three seconds."
"It just goes to show – mastery of three flavours of relational database, seven programming languages, thinking in binary and dreaming in hexadecimal all go unappreciated; recognising a wildly inappropriate mouse mat for an optical mouse, the stuff of legend.
"Go figure."
What is your record for diagnosing and fixing a user fail? What simple thing have you done that seemed utterly magical to the person needing your help? It is time to shine with an email to On Call. ®