This article is more than 1 year old
Baroness Dido Harding lifts the lid on the NHS's manual contact tracing performance: 'We contact them up to 10 times over a 36-hour period'
Some of them will be feeling very ill and won't pick up the phone and return the call. Ahem...
Baroness Dido Harding of Winscombe, who is currently leading the UK's coronavirus track-and-trace efforts, has shed light on the nation's human-driven contact-tracing efforts in a meeting of the Commons Science and Technology Select Committee.
The tracing programme started on 28 May. Within the first month of the service's operation, over 27,000 confirmed Covid-19 infected had been onboarded onto the contact tracing system. (Altogether, there have been 285,768 confirmed cases in the UK.)
Of those 27,000 people that were "onboarded", over 20,000 — or 73.9 per cent — have engaged with the NHS's contact tracers, providing details of their interactions with over 153,000 members of the public.
Harding attributes the relatively low number of those engaging with the contact tracing teams to a variety of factors. The infected person may have already warned their friends and family, or simply may not be well enough to respond.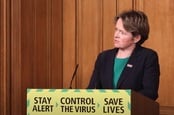 In Hancock's half-hour, Dido Harding offers hollow laughs: Cake distracts test-and-trace boss at UK COVID-19 briefing
READ MORE
"We contact them up to 10 times over a 36-hour period. Some of them will be feeling very ill and won't pick up the phone and return the call. Others won't have given us the right information," Baroness Harding told the committee.
The NHS's track-and-trace team, which consists of clinical professionals and specially-trained contact centre workers, has managed to reach 86.5 per cent of those who have had close interactions with those infected with Covid-19. Of that, 80 per cent were contacted within the first 24 hours of their details being registered.
The UK's track-and-trace system defines contact as whenever someone is within two metres of another person for more than 15 minutes, said Baroness Harding.
The former TalkTalk boss highlighted several shortcomings of the current system when it comes to tracking the contagion of the disease, noting that the system presently doesn't track whether an individual who has been warned to self-isolate ultimately contracts COVID-19.
Unlike other developed countries — including Italy and most recently Germany — the UK is forced to rely on call-centre-driven contact tracing after NHSx discontinued development of its centralised contact tracing mobile application.
The application promised to automatically identify contacts using Bluetooth signals. It was, however, beset with technical difficulties. It also attracted criticism from privacy advocates, who argued it would provide the UK government with an almost unparalleled dataset of its citizens' movement.
The UK government has since - as predicted by The Reg - announced plans to develop a decentralised application, based on the frameworks developed collaboratively by Google and Apple. It's expected that this will be formally released later this year.
It is pertinent to note that the UK government previously regarded app-based contact tracing as central to its strategy for managing the spread of the disease, before swiftly relegating it to "cherry on the cake" status as development woes began to set in. ®