This article is more than 1 year old
You don't have to go home, but you can't stay here. Fujitsu tells 80,000 of its Japan employees: From now on, you work remotely
Announces plans to close 50% of its Japanese office space by close of 2022
Fujitsu is to permanently shutter one half of its office real estate in Japan and will ask 80,000 locals to work from home permanently as it redefines work culture internally in the wake of the COVID-19 outbreak.
Under the auspices of the Work Life Shift campaign, Fujitsu is to study data of how employees use offices, with a view of giving them more tools and options to work from home, at hubs or be more mobile.
"For employees in Japan, this latest initiative will mark the end of the conventional notion of commuting to and from offices, while simultaneously granting them a higher degree of autonomy based on the principle of trust," Fujitsu said today.
Currently, the 80,000 workers earmarked will "primarily work on a remote-basis" as part of a "Smart Working programme, which Fujitsu said it expects will "not only improve productivity but also mark a fundamental shift away from the rigid, traditional concept" of office work".
From this month, Fujitsu has expanded flexible working hours to all staff, upped the potential to telework and told all staff who want to work remotely for family care that they can do so.
Japan, unlike many other countries, has not ordered citizens into lockdown, and judging by official statistics has seemingly fared far better than many: 977 people have been registered as dying of the virus as of 4 July.
Fujitsu was very careful not to mention COVID-19 more than once in its statements, but it seems clear that the cause of this shift in working styles is the potentially deadly virus.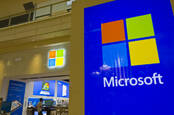 It's now safe to turn off your computer shop: Microsoft to shutter its bricks-and-mortar retail locations worldwide
READ MORE
The second major element of Fujitsu's Work Life Shift campaign is what the business termed as the Borderless Office: this is to move away from the concept of a fixed office to one that is based at home, in a hub and/or satellite office, depending on the work being done.
Hubs will be established across Japan, the company claimed, with the main function of each pre-determined as demo facilities or a place to showcase customer collaborations, etc.
"In parallel, Fujitsu will streamline its use of office space to reduce its footprint to about 50 per cent of current levels, switching completely to hot desk systems, and thereby creating a comfortable and creative office environment (by end of FY 2022)."
A "review and digitalisation of business processes" that allows for remote working is under way, including identifying tasks that need to be completed in an office and analysing office usage data.
As a background to all of this, effort will be ploughed into "Culture Change": this is about the management trusting colleagues who are out of sight - and hopefully have enough space in their homes to perform their work.
"Fujitsu will work to realise a new style of management based on employee autonomy and trust to maximise team performance and improve productivity. In addition, Fujitsu will continue to seek ways to optimise working styles by continuously listening to the voice of its employees regarding the dramatic shift toward physically separated working spaces, and by leveraging a digital platform that visualises and analyses working conditions."
Fujitsu will work to realise a new style of management
Of the 132,138 employees working at Fujitsu [PDF], 85,000 are based in Japan, with 28,000 in EMEA (including 9,900 in the UK), 10,000 in the rest of Asia, 5,000 in the Americas and 3,000 in Oceania.
The new way of working does not apply to staff deployed at customer sites nor those in manufacturing.
El Reg asked the UK operation what these changes mean locally and was told that for the time being they are taking place exclusively in Japan. Most of Fujitsu's workers in Europe continue to work remotely, a spokesperson added.
Governments including in the UK, Spain and Germany have begun to impose local lockdowns as new spikes of the COVID-19 coronavirus emerge in places where lockdown had previously been lifted.
According to McKinsey research, four out of five employees surveyed said they liked working from home; 41 per cent said they were more productive; and 28 per cent said they were less so. But freed from the shackles of a long daily commute, some people have found a greater work life balance. Others just work longer hours. ®