This article is more than 1 year old
Oracle sued by a shareholder who alleges its lack of progress in diversity amounts to 'dishonesty'
Asks that at least three Board members give up their seats for diverse replacements
Oracle is being sued by a shareholder who alleges the IT titan has not been truthful and honest in its efforts to create greater racial diversity within its workforce.
The claim was filed on Thursday last week, the day before America shut up shop for the 4 July long weekend, in the US District Court for the Northern District of California. The 106-page complaint [PDF] alleged that despite public statements committing to greater racial diversity in the company's leadership and board level, a failure to make progress meant the statements amounted to dishonesty.
It is claiming a breach of fiduciary duty against the Board and 30 execs as well as "abuse of control" by CTO Larry Ellison and CEO Safra Catz specifically.
"If Oracle simply disclosed that it does not want any black individuals on its board, it would be racist but honest. But Oracle's directors, wishing to avoid public backlash, have done the opposite — they have repeatedly made gross misrepresentations in the company's public statements by claiming to have a multitude of policies, internal controls, and processes designed to ensure diversity both at the management level and the Board itself," said the complaint.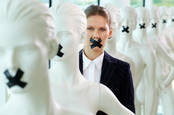 Oracle faces claims of unequal pay from 4,000+ women after judge upgrades gender gap lawsuit to class action
READ MORE
The suit – brought by Bottini & Bottini in La Jolla, California, and Renne Public Law Group in San Francisco on behalf of shareholder R. Andre Klein – alleged a "lack of truthfulness and effort on the part of the Board to fulfill their fiduciary duties which has resulted in racial discrimination in its leadership positions and otherwise to the detriment of the Oracle shareholders".
The court papers included photos of the Oracle board, which is all white bar Vishal Sikka, founder and CEO of Vianai Systems.
"Oracle stands alone in the basement of just a handful of publicly‐traded companies that have earned the dubious distinction of having not a single Black person on its board. In short, Oracle's culture and top ranks are permeated with a backwater attitude about diversity," the filing alleged.
"Oracle's Directors have deceived stockholders and the market by repeatedly making false assertions about the Company's commitment to diversity. In doing so, the Directors have breached their duty of candor and have also violated the federal proxy laws," it continued.
The suit went on to claim that the cloud giant remained one of the oldest and most egregious "Old Boys' Club" in Silicon Valley.
Oracle has declined the opportunity to comment.
The filing also pointed out the two Congressional inquiries into the lack of diversity on Oracle's Board, quoting a 22 November letter from the House Tech Accountability Caucus and Tri‐Caucus, which stated: "The fact that African Americans make up 13 per cent and Asian Americans make up 5.6 per cent of the US population but zero per cent of Oracle's board and leadership team is inexcusable."
According to information on the Oracle website, black people make up 3.7 per cent of its US workforce.
Oracle finally responds to wage discrimination claims… by suing US Department of Labor
READ MORE
The lawsuit also noted that a Department of Labor lawsuit filed in January last year claiming Oracle's discrimination against women and minority workers had resulted in at least $400m in underpaid salaries.
Oracle responded by suing the government department that has repeatedly flagged the issue, claiming it has no authority over the company.
The lawsuit seeks, among other things, for Oracle to publish an "annual Diversity Report that contains particularized information about the hiring, advancement, promotion, and pay equity of all minorities at Oracle"; create a $700m diversity fund; and for three of its Board members to resign and be replaced by black and minority members.
Meanwhile, two months ago, a California state judge certified a gender bias class action lawsuit started by women working for Oracle who sued the company in 2017, seeking to be paid as much as their male colleagues. Over 4,000 current and former women employees of the cloud giant had since joined the suit. ®