This article is more than 1 year old
LibreOffice community protests at promotion of paid-for editions, board says: 'LibreOffice will always be free software'
Enterprise edition ahoy as project tries to puzzle out its business model
Updated The LibreOffice community has protested at the appearance of a "personal edition" label in the forthcoming version 7.0 of the hitherto free office suite, and the suggestion that paid-for enterprise editions are in the pipeline.
The trouble began with a bug report earlier this month, raised by a user who spotted that version 7.0 is now branded as "Personal Edition" with the statement in the About dialog that "The Personal edition is supported by volunteers and intended for individual use."
On asking for the background to this alarming statement (in the context of free software), the user was referred to a patch in the code repository; not the most transparent way to introduce a major policy change, but it was there if you looked.
In the ensuing discussion comments included "Which company does it suit to have this information in the About dialog?" and "I'm clearly against any of 'personal use', 'individual use' or 'private use' or similar. With such terms LibreOffice cannot be used in education and non-profit organizations."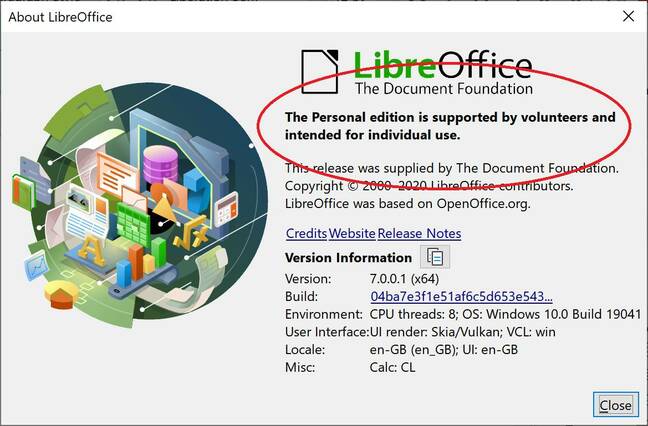 Click to enlarge
Community disquiet was sufficient to prompt a board statement on the matter from The Document Foundation (TDF), the non-profit set up to oversee LibreOffice when the project was forked from OpenOffice in 2010. "None of the changes being evaluated will affect the license, the availability, the permitted uses and/or the functionality. LibreOffice will always be free software and nothing is changing for end users, developers and Community members."
What's coming up then?
This is true but not the whole story. What appears to have happened is that TDF was gearing up for a big strategy announcement to be announced on July 15th, but as can happen with open source software, the community spotted changes to the code that broke the embargo. It is all about money and the business model of TDF and LibreOffice, with the broad idea being to enable "ecosystem partners" to provide paid-for products badged "LibreOffice Enterprise".
There is something odd though, which is that the board statement frames this as a "marketing plan" which "is still under development and discussion" but the detailed slides prepared by TDF's media relations and marketing guy Italo Vignoli suggests something that is well-baked, with a proposed implementation from August 5th to follow the July 15 announcement – hardly time for the community to have much material input.
Leaving that aside, Vignoli's presentation included a detailed rationale for the proposals, beginning with the observation that "the global open source ecosystem has evolved, and there have been lengthy discussions about the relationships with business using OSS (Open Source Software) without contributing back to open source projects."
TDF intends to change its branding so that LibreOffice is used throughout, "to reduce the perception that TDF is a software vendor, providing support and other services."
Vignoli explained that LibreOffice is supported by what he called "ecosystem companies", commercial operations which provide funding and/or staff directly to TDF, together with community contributions from volunteers and users. Around 68 per cent of the contributions to the source code are from ecosystem companies, he said. An example of an ecosystem company is Collabora, based in Cambridge in the UK, which uses LibreOffice as part of its commercial product.
Between 2010 and 2014, the number of full-time employees working on LibreOffice rose to 60, Vignoli's slides showed, but three years later that fell to 40 as some companies withdrew support. While this is now stable, Vignoli said that "the ecosystem is not growing as much as the community." He also referred to "frictions" in the community, caused by tensions between the commercial and community project members, "which are not beneficial to the health of the project".
The idea is to improve the funding model for LibreOffice by "finding the right balance between the free product and the enterprise supported product." It is already possible to get a commercially supported version of LibreOffice, such as Collabora's one at €17 or $18 per user/year.
There will be a new concept called the "LibreOffice Engine" to describe the core software in both personal and commercial editions, similar in concept to the "Intel Inside" slogan. The intention is to differentiate LibreOffice Personal from LibreOffice Enterprise, and to suggest that the commercial version, only available from ecosystem members, is for "production environments and strategic documents."
The objective of the new marketing strategy is to "lure potential business customers by offering a competitive price (with clear SLAs), to educate them about the advantages of an enterprise optimized LibreOffice version," said the presentation. There are also plans for a Certified Professional programme with marketing behind it.
Vignoli also referred to a problem with LibreOffice Online, the browser-based, cloud version of the office suite. Community members would like a "full product, easy to deploy by everyone," he said, but "ecosystem members are getting most of their revenue from LibreOffice online." Differentiating between free and commercial versions, and delaying release of the free version, could satisfy both sides, the presentation suggests.
According to Vignoli, two recent trends are running in favour of wider take up for LibreOffice. One is international concern about "digital sovereignty," with, for example, the EU worried about being reliant on Microsoft or Google for its productivity. The other is COVID-19 and lockdown, which has stimulated (or required) greater interest in working from home.
"I have tried to do my best by listening to everyone," said Vignoli, also stating that he welcomes feedback and that there will be a future version which will be "the final marketing plan for the next five years."
Despite these statements, TDF and the LibreOffice team could have done better with their communications on this subject; but navigating a major open source project in such a way as to maintain its viability and growth while also meeting the insatiable demand for something for nothing is a difficult task.
Vignoli said LibreOffice is the "only viable FOSS alternative to Microsoft Office," and while the Apache OpenOffice folk might disagree, there is no doubting its importance to individuals or organisations who need an open source alternative. ®
Updated to add
Vignoli got back to us to further clarify the consultation process. The strategy document "has been available to community members for two weeks," he said, but only for those subscribed to a board-discuss mailing list. "If people are interested – as it looks from their reactions – they should have subscribed to the board-discuss mailing list," he told us.
He added that "during the last 10 years there has been a constant increase in the number of businesses using the free version without paying or giving back anything, and this has created issues for the project's business model."
The solution the board came up with was to "improve the support for commercial offerings," and in early May, Vignoli was tasked with drafting a marketing plan. He consulted colleagues at branding agencies about the "naming effort" but says "this has not been successful as only one comment out of dozens has caught the spirit behind 'personal'".
Vignoli also promised to share a more detailed marketing plan with additional background in the next few days.