This article is more than 1 year old
Social media giants move to defy Hong Kong's new national security law
Plus: US govt says it's 'looking at' banning Chinese social media apps, including TikTok
Social media businesses are making moves to block Hong Kong authorities from accessing their user data, days after Beijing imposed a new national security law on the territory.
Facebook, Google, and Twitter said late last night they will temporarily block Hong Kong's law-enforcement agencies from accessing user data after the local government granted sweeping new powers to police under the law to "prevent, suppress and impose punishment for offences endangering national security."
The police will be able to search people without warrants and take down internet posts. Those who do not comply could be fined as much as $13,000 and face a two-year prison sentence.
"We believe freedom of expression is a fundamental human right and support the right of people to express themselves without fear for their safety or other repercussions," a Facebook spokesperson said in a statement.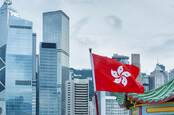 Beijing's tightening grip on Hong Kong could put region's future as an up-and-coming tech hub in jeopardy
READ MORE
Facebook said it would review the government for user requests from Hong Kong, "pending further assessments of the National Security Law, including formal human rights due diligence and consultations with international human rights experts". The decision also includes Instagram and WhatsApp, which the company also owns.
Google and Twitter also said that they had paused all data and information requests from Hong Kong authorities when the national security law went into effect last week.
"Our teams are reviewing the law to assess its implications, particularly as some of the terms of the law are vague and without clear definition," a Twitter spokesperson said.
ByteDance's TikTok said today it would remove its app from Hong Kong's app stores in the coming days, making it the first social media company to withdraw from the city after Beijing imposed the new laws.
The moves come after China's mainland government imposed a national security law on Hong Kong last week, which many see as undermining the territory's autonomy under the "one country, two systems" formula since its handover from the British in 1997.
The Hong Kong government said on Monday the new law mandates that social media companies take down content it deems illegal, cut individuals' access to their platforms, and comply with decryption requests when a warrant is provided.
The new powers set US social media giants on a collision course with China, which is tightening controls over the territory's previously unfettered internet access. Up until last week, pro-democracy campaigners in Hong Kong frequently used social media, including Facebook, Google and Twitter, to voice dissent against the mainland's encroaching influence over the territory. By comparison, all three platforms are blocked in the mainland.
WhatsApp messages are already end-to-end encrypted, meaning Facebook could not read the content of messages even if it wanted to. But the company could be asked to hand over other basic information, such as phone numbers. The number of first-time users of encrypted messaging app Telegram in Hong Kong quadrupled last year, according to Sensor Tower.
Also last night, US Secretary of State Mike Pompeo said in an interview on Fox News that the country is "looking at" banning Chinese social media apps, including TikTok. He said Americans should take care in their use of TikTok, claiming their private information would end up "in the hands" of China. ®