This article is more than 1 year old
Another anti-immigrant rant goes viral in America – and this time it's by a British, er, immigrant tech CEO
Exec admits launching racist tirade at family in restaurant
Updated Another day and another racist rant in America has gone viral. This time the perpetrator appears to be a British founder of a cloud computing consulting company based in San Francisco.
The outburst occurred at a July 4 family birthday party at the Bernardus Lodge and Spa in Carmel Valley, California. According to the family involved, a lone man made racist comments while they enjoyed their meal, causing one of them, Jordan Chan, to begin filming him with her phone.
In a video she captured and posted to Instagram, the man, who appeared to be drunk, let rip at the family: "Trump's gonna fuck you! You fuckers need to leave... fucking Asian piece of shit." A waitress then intervenes, orders him out of the restaurant, and bans him for good measure.
"I've dealt with racism but never on that scale," Chan told TV station KION yesterday. "Never on that level to the point where somebody completely unprovoked felt obligated to voice out their hatred for absolutely no reason."
The restaurant confirmed Chan's story. Its general manager Sean Damery said it was "an extremely unfortunate situation, however we are proud of our staff at Lucia in keeping with Bernardus Lodge's core values; this incident was handled swiftly and the diner was escorted off property without further escalation."
Identification please
Shortly after Chan shared her video, it went viral: chanteuse Kelly Clarkson retweeted it to her 12 million followers, thanking the waitress for dealing with the racist moron so firmly.
The video was sufficiently shocking that internet sleuths raced to name and shame the lout. And not only did netizens track him down to his, now deleted, social media profiles, he revealed himself by launching a racist tirade in the comments section on Chan's video.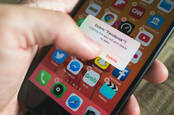 When Facebook says you're not a good 'culture fit', it means you're not White or Asian enough – complaint
READ MORE
He was eventually named as Michael Lofthouse. Judging from his now-vanished LinkedIn profile, he is a graduate of Britain's Northumbria University, and has worked at IBM, Oracle, HP, and BMC. The British immigrant – who says irony is dead? – founded cloud computing biz Solid8 in San Francisco. Neither he nor the company has returned our requests for comment.
One company that is feeling the pressure of the media mob, however, is British management firm Solid8 Consulting, which has been deluged with hate mail and calls. Its owner Emma Jones said in statement: "This is a case of mistaken identity and we are in no way associated with the business in question. We don't actually have a CEO, I run and own the company along with my fiance, Josh.
"Whilst I appreciate that people are understandably outraged and want to express their views by what they have seen on video of a CEO from a company with a similar name, we are NOT associated or affiliated in any way with HIS company in the USA. We are a family run business that employs our staff based on their personality and ability."
A trend
This is just the latest example of someone who has been recorded being physically threatening or abusive with the footage posted online, leading to a mass effort to identify and punish them.
Just this week, a White woman who called the cops on a Black man who had asked her to put her dog on a leash in a park, and wrongly accused him of attacking her, was charged with filing a false police report. Amy Cooper, 41, faces up to a year in jail for the misdemeanor if convicted.
Also this week, a man who aggressively confronted a woman at a CostCo in Florida for asking him to wear a coronavirus-blocking mask was also identified online and sacked from his job at an insurance company after a video of the exchange took off.
But while many are happy to see aggressive, abusive, and threatening behavior come with real-world consequences, there are also concerns that the bullying and harassment of people online has gone too far.
In a letter published by Harpers on Tuesday and signed by dozens of famous authors and journalists, including Martin Amis, Margaret Atwood, Noam Chomsky, David Frum, Malcolm Gladwell, Steven Pinker, J.K. Rowling, Salman Rushdie, Gloria Steinem, Nadine Strossen and Fareed Zakaria, the signatories argue that while "powerful protests for racial and social justice are leading to overdue demands for police reform, along with wider calls for greater equality and inclusion across our society, not least in higher education, journalism, philanthropy, and the arts.
"This needed reckoning has also intensified a new set of moral attitudes and political commitments that tend to weaken our norms of open debate and toleration of differences in favor of ideological conformity."
Swung too far?
It goes on: "The free exchange of information and ideas, the lifeblood of a liberal society, is daily becoming more constricted. While we have come to expect this on the radical right, censoriousness is also spreading more widely in our culture: an intolerance of opposing views, a vogue for public shaming and ostracism, and the tendency to dissolve complex policy issues in a blinding moral certainty."
In recent weeks, lawmakers, policewomen, and ordinary members of the public have been hounded, and in many cases fired, for expressing an opinion or even reposting someone else's social media post that someone took exception to.
The distinction between a position that some people may disagree with or find offensive is, of course, very different to aggressive, openly abusive behavior toward an individual. But while the law recognizes that, online mobs tend not to respect the distinction.
"We need to preserve the possibility of good-faith disagreement without dire professional consequences. If we won't defend the very thing on which our work depends, we shouldn't expect the public or the state to defend it for us," the letter closes. ®
Updated to add at 0500 UTC, July 8
"My behavior in the video is appalling," Lofthouse said in a statement to ABC7.
"This was clearly a moment where I lost control and made incredibly hurtful and divisive comments.
"I would like to deeply apologize to the Chan family. I can only imagine the stress and pain they feel. I was taught to respect people of all races, and I will take the time to reflect on my actions and work to better understand the inequality that so many of those around me face every day."