This article is more than 1 year old
No more Genius Bar bottlenecks for you, Mr Customer? Apple exports independent repair provider program to Europe and Canada
iPhone right-to-repair movements blows in from US
Europeans and Canadians with busted iPhones will soon be able to swerve the Genius Bar and associated lengthy waiting lists, as Apple expands its Independent Repair Provider (IRP) program to third party technicians.
The IRP scheme authorised independent businesses to perform out-of-warranty repairs on iPhones using genuine Apple components — such as displays and batteries.
Repair facilities will be able to use third-party components and set their own prices, but must inform customers when they're using genuine Apple parts - which would hit anyone trying to use aftermarket TouchID sensor replacements and the like. Any salvaged parts must be returned to Apple, where they'll either be refurbished or recycled.
Apple said it will also provide training, service guides, and other resources — although repair providers will be compelled to keep these confidential.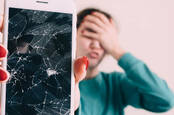 Repair store faces hefty legal bill after losing David and Goliath fight with Apple over replacement iPhone screens
READ MORE
This comes a month after Norway's Supreme Court upheld a ruling that a local repair shop violated Apple's trademark by using an unauthorised screen to fit a customer's iPhone.
Would-be IRP members are obliged to adhere to a few requirements: Firstly, the company name cannot infringe on Apple's trademarks; companies also have to maintain a high-street retail location, barring those who would work from their homes; and, as you might expect, all technicians must be certified, which involves passing annual exams.
Certifications are provided on a per-product basis. Fortunately, Apple says it will waive examination fees for approved IRP members. Membership in the IRP program is free.
Today's news comes as part of a wider rollout of the IRP program, which debuted in the US last summer at a point when the "right to repair" movement was gaining momentum on the state level. It encompasses over 700 locations across 140 companies. Repair shops across 32 European countries, as well as Canada, can now sign up for the program.
For years, Apple attracted criticism for its negative attitude toward independent gadget fixers, despite claiming itself that it actually loses money by performing the repairs in-house.
Gay Gordon-Byrne, executive director of The Repair Association, last year highlighted the circa 20 right-to-repair bills under consideration in state legislatures when Apple agree to let third parties repair its gear.
"I think they're trying to take the heat off," she told The Register. ®