Embattled Chinese tech bogeyman Huawei has decried the UK government's mooted plan to ban it from domestic 5G networks over reliability concerns caused by the imposition of punishing US sanctions.
In a press conference this morning, Huawei veep Victor Zhang — who has represented the company's UK interests in various forms since 2004 — said it was too early to determine whether the Trump Administration's sanctions have impacted its ability to deliver.
"It is important to stress that the restrictions by the US will take months to fully understand. The fact is, it is too early to assess their long-term impact," Zhang said. "This means it is also premature to make an unconsidered judgement on our ability to deliver next-generation connectivity across the UK."
The Huawei vice prez hailed the UK government's decision to ask the NCSC (National Cyber Security Centre) to review the impact of US sanctions — which Zhang described as "unjustified" — on the UK's 5G network, and encouraged it to maintain an "evidence-based" approach to the company.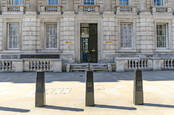 GCHQ's cyber arm report on Huawei said to be burning hole through UK.gov desks
READ MORE
It has been said that Huawei turning to alternative chip design and fabrication sources in the wake of the US trade ban could cause NCSC to declare it too difficult to fully vet both the physical hardware and the processes used to write software and firmware running on it.
Earlier this week, Oliver Dowden, the Secretary of State for Digital, Culture, Media, and Sport, suggested the government could decide to prohibit networks from using Huawei-made kit later this month.
"In relation to Huawei, we've had these US sanctions that were imposed a couple of months ago; I've asked the National Cyber Security Centre to analyse the impact of them," Dowden told LBC Radio.
"It seems likely they're going to have a significant impact on the reliability of Huawei. I've just received that advice. I will be discussing that with the prime minister [Boris Johnson] and if there's any change of policy arising from it I will make an announcement."
Networks are currently allowed to use equipment from Huawei and other so-called "high-risk" vendors in up to 35 per cent of the non-core network. This primarily includes the RAN (radio-access network). The current rules prohibit networks from using Huawei in the sensitive "core" network.
Zhang defiantly stated that Huawei would "work to find solutions to any restrictions that the US imposes on us." He also argued that any moves against Huawei could seriously harm the UK's 5G rollout, and thus, the effort to extend access to superfast broadband connectivity.
Earlier this year, Huawei highlighted its 20th year of operating in the UK. That coincided with the firm winning approval to build a new R&D facility in leafy Cambridgeshire, focusing on the firm's fixed-line technologies.
Nonetheless, that storied history hasn't won it many friends in Westminster, with the Chinese firm still regarded with an air of suspicion. The firm's perceived links to the Beijing government — which it denies — don't help either, particularly given the recent passage of the new Hong Kong national security law, which is widely regarded as an effort to curtail the freedoms enshrined in the Sino-British Joint Declaration. ®