FYI: You do all know that America's tech giants, even Google, supply IT to the US military, right?
They're more than happy to take Uncle Sam's coin no matter the protests from some corners of Silicon Valley
---
Despite all those protests, internal and external, by tech workers against their employers' selling AI to the US military, the Pentagon's Joint Artificial Intelligence Center (JAIC) this week said the biggest names in IT are lining up to supply Uncle Sam.
Founded in 2018, the JAIC focuses on deploying machine-learning systems to support America's armed forces. It invests in all sorts of applications and platforms, from internal private clouds to drones.
Nand Mulchandani, who took over as acting director of the organization after Lieutenant General Jack Shanahan retired in June, told reporters in a briefing on Wednesday that the center has "major contracts with all the major tech companies – including Google."
The acting director singled out the search giant presumably to highlight what he saw as a bout of hypocrisy by Google, which made a big play about not helping Uncle Sam develop instruments of death yet still provides tech services on the down-low.
In 2018, CEO Sundar Pichai pulled Google out Project Maven – a contract to provide the US military object-tracking AI to analyze drone surveillance footage – after a revolt by Googlers. Soon after, the chief exec publicly declared Google wouldn't, among other things, "design or deploy ... technologies that cause or are likely to cause overall harm" nor "weapons or other technologies whose principal purpose or implementation is to cause or directly facilitate injury to people."
Later that year, Pichai also withdrew the web corp's bid for the Pentagon's $10bn winner-takes-all Joint Enterprise Defense Infrastructure (JEDI) cloud contract because it did not align with his company's values. An inability to gain the certification needed to offer cloud services to the military was also a little tiny roadblock, as was its fear of publicly losing out to Amazon or Microsoft. But in any case Google spun itself as a lofty pacifist and definitely not a digital arms manufacturer, and so it wasn't going to get involved in this sort of stuff again.
Mulchandani, however, painted a different picture: the JAIC's bonds with massive tech corps were "only getting stronger" no matter the protests and promises from Silicon Valley techies and executives, he claimed. Some of these technology suppliers may be working directly with the government, and some through a network of subcontractors. Some giants, particularly Microsoft, are outwardly proud to serve the US military, technology-wise.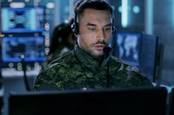 Microsoft to staff: We remain locked and loaded with US military – and will keep adding voice to AI ethics debate
READ MORE
A study by Tech Inquiry, an investigative nonprofit led by an ex-Googler, revealed Google as well as Microsoft, Amazon, Facebook, Nvidia, Dell, HP, IBM, Twitter, Palantir, and others, supply the Department of Defense and the Feds with technology one way or another. For example, Google's G Suite is used by the Navy and FBI, we see.
Tech Inquiry's Jack Poulson noted: "On balance, Google's position became supporting the DoD's cloud and cybersecurity while avoiding direct contributions to weapons systems."
As for the JAIC, it takes an interest in things like the role of machine learning in warfighting operations, warfighter health, logistics, and information warfare. Mulchandani said that most of the organization's budget is funneled into warfighting operations. "It is true that many of our products we work on now will go into weapon systems," he said.
But he was quick to insist none of those systems were autonomous: humans still give the final commands, we understand. In other words, the center isn't building killer robots or weapons that decide solely whether someone lives or dies. "It's such an outer edge case," he said. "We are nowhere near that in a platforms, hardware, software, or algorithms perspective to even get near that."
Another controversial area that the JAIC said it wasn't involved in is facial recognition. Mulchandani acknowledged that other countries, such as China and Russia, are more ready to deploy this sort of tech compared to his operation. "[We're] not behind, it's just that we don't build [those systems]. We don't build surveillance and censorship technologies," he insisted. ®