This article is more than 1 year old
Knock-Nokia... who's there? Also-vRAN Samsung with new open virtualized network antenna kit
Are these the O-RAN-compliant goods you were looking for?
Samsung has made its open, virtualized 5G radio access network (RAN) platform commercially available, allowing carriers to run the external components of a 5G network on off-the-shelf x86-based hardware.
The firm said it would be available to carriers this quarter.
The move comes hot on the heels of Nokia's open RAN news last month. The Finnish firm touted its new vRAN2.0 product, which it described as a "fully cloudified and disaggregated 5G base station".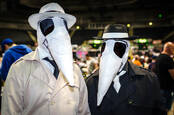 US lobby group calls for open standards to fight Huawei 'threat'
READ MORE
Traditionally, the RAN consists of proprietary functions running on vendor-specific base station hardware. But the virtualisation of the RAN shifts some of the work away from the base station, with functions like baseband management and subscriber functions taking place on shared, virtualized, computers in the carrier core or on edge servers.
Samsung and Nokia are hoping to woo customers with lower plumbing costs, including spending less on power at their cell sites, as well as the ability to use commercial off-the-shelf (COTS) hardware. Crucially, the virtualized software is not tied to any hardware, which means carriers can uncouple their RAN setup from single kit-vendors, such as, um, Huawei.
The RAN architecture standard defines two main logical software components: the Centralised Unit (CU) and the Distributed Unit (DU). The CU primarily handles interactions with the backhaul "core" network, as well as other essential functions. Meanwhile, the DU typically handles "fronthaul" interactions, connecting to the RAN's Remote Radio Unit.
Samsung's vRAN product bundles both virtualized CUs and DUs, as well as the prerequisite radio units. The South Korean conglomerate first released its virtualized CU (vCU) in April, and said the tech is now used by networks across Korea, Japan, and the US.
"Samsung's 5G vRAN validates a software-based alternative to vendor-specific hardware, while offering high performance, flexibility, and stability," said company veep Jaeho Jeon, in a canned statement.
Jeon added that once the product "becomes commercially available this quarter", Samsung will give carriers "additional architectural options for building innovative and open 5G networks."
While Ericsson, Nokia and Huawei dominate the European 5G sphere, Samsung supplies dominant American carriers AT&T and Verizon.
It previously powered Sprint's 2.5Ghz 5G service, which T-Mobile deactivated following the "T-print" mega-merger that was signed off by US regulators earlier this month.
The company said it would continue to conduct vDU field trials in the US in the second half of this year.
Both firms stand to benefit from a move towards open RAN equipment, which has been pushed by the US government as a way of replacing the kit of Huawei, which it considers to be a security threat. ®