Got plans for the weekend? No? How about pulling that Pi out of the drawer or dusting off an old laptop and getting ready to grab some images from the ISS, courtesy of locked-down European Space Agency (ESA) boffins.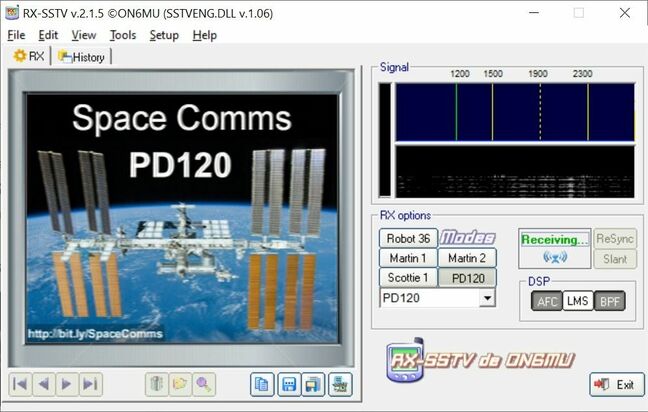 Decoded image of a test transmission using the same mode the ISS will use – there won't be any actual transmissions until late July-August ... Source: One of our Windows PCs
Demonstrating what engineers and scientists get up to when they are riding out the current pandemic in their homes, the ESA team has put out a series of tutorials for Windows 7 and 10, macOS, iOS and Android, Ubuntu, and, of course, the Raspberry Pi, on how to pick up and decode Slow Scan Television (SSTV) transmissions from the orbiting outpost.
Those hoping for the latest and greatest HD video should look away now: think more ZX Spectrum loading screen than Netflix 4K cinematics.
Naturally, we had a crack at making it work (using the Windows 10 instructions) and succeeded in viewing the test image after delving into the dark arts of the Windows sound mixer. Pay close attention to the instructional video on setting up the Stereo Mixer (we didn't).
The system makes use of the Web Software Defined Receivers (WebSDR) scattered around the world, which allow multiple users to listen in and tune the receiver simultaneously. The audio generated can then be piped into a SSTV decoder (ESA directed us to RX-SSTV, which will have a crack at rendering an image).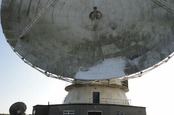 Suffering satellites! Goonhilly's ARTHUR REBORN for SPAAAACE
READ MORE
The example cited for a WebSDR by ESA is the one hosted at Goonhilly Earth Station in Cornwall, which allows users to listen in on the 144 – 146MHz VHF band. ISS voice and data starts at 145.800MHz, but only if the station is actually transmitting and in range of the station.
Helpfully, the WebSDR gang supplies a list of connected receivers around the world, and tracking the location of the ISS is relatively simple.
Sadly, there isn't a schedule for when the ISS will be transmitting its SSTV data. Amateur Radio on the International Space Station (ARISS) maintains a blog of events but making things work relies on slotting the task into crew time.
SSTV has a long history, and was used by the Soviet Luna 3 probe to transmit images from the far side of the Moon. A variant also saw action in the early days of the Apollo program. The modern incarnation is used by amateur radio enthusiasts to send and receive static pictures in colour or monochrome via audio tones.
ESA said it anticipates the next broadcast from orbit will take place in the coming week or so, to mark the 45th anniversary of the Apollo-Soyuz Test Project.
This should give hobbyists plenty of time to tinker with software receivers or maybe even set up their own. And, in the case of Windows 10, deal with those pesky sound settings that Microsoft insists on hiding in the operating system. ®