Fujitsu has refreshed its line of iconic developer-oriented Happy Hacking mechanical keyboards.
The three latest models — all including USB-C, with two using Bluetooth — are available to pre-order today, with units shipping from July 16 across Europe (including the UK).
The first, dubbed Classic, is an update of the iconic Happy Hacking Professional keyboard, packing a USB-C. The Hybrid and Hybrid-S versions include Bluetooth 4.2, allowing users to wirelessly connect to their computers, and switch between devices with a keyboard shortcut. The latter uses a silent switch.

Click to enlarge
As you'd expect, the Classic is the cheapest model on offer, with a starting price of £219.99. This comes in black and white variants, and interesting punters can choose between printed and blank keycaps (ideal for those who prefer to use esoteric keyboard layouts, like DVORAK or COLEMAC). For Bluetooth, you can expect to pay a premium, with the Hybrid costing £259.99. The Silent version is more expensive still, retailing at £299.99.
As the name implies, the Happy Hacking keyboard is aimed at the developer market, and aggressively emphasises ergonomics by reducing wrist movement to as little as possible. By design, it's perfectly symmetrical. It also reduces the number of keys from the typical 104 to just 60. Not only does it lack the "tenkey" numberpad, it also ditches the function, navigation, and arrow keys.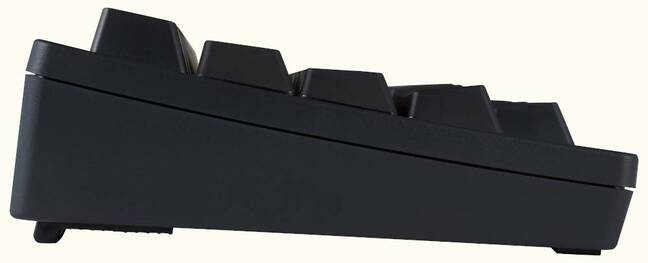 Classic: a view from the side
Unlike other mechanical decks — which largely use Cherry or Cherry-knockoff key-switches, with the exception of Razor and Logitech who use their own in-house ones — the Happy Hacking keyboard uses capacitive key switches from Topre.
It's worth noting Fujitsu seldom updates the Happy Hacking keyboard, with the last proper refresh of the Professional keyboard (ie, a material change to the design) in 2006. There have been subsequent limited edition releases, as well as the inclusion of bluetooth, but we're not counting those.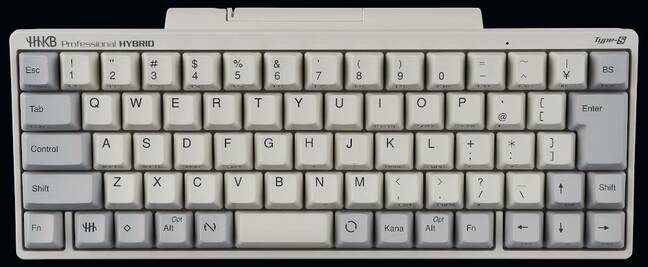 Blue in the tooth: The wireless Hybrid version
It's perhaps pertinent to note that since the first Happy Hacking keyboard launched in 1996, other ergonomic mechanical keyboards have entered the market, such as the ErgoDox EZ, Planck Ez, and the Matias Ergo Pro. It'll be interesting to see how the refreshed Happy Hacking series can compete, particularly given the inherent learning curve each keyboard provides.
We mention the learning curve because a Happy Hacking keyboard should be winging its way to Vulture Central in the coming weeks. We'll keep you posted.®
Similar topics
Broader topics