Amazon today said an internal email banning its staff from using TikTok on smartphones connected to their corporate inboxes was sent in "error." The admission – or climb down, depending on how skeptical you are – came after the memo was obtained and leaked by journalists.
The internet giant's IT department sent a note to some workers on Friday telling them to remove the Chinese video-sharing app from their mobile devices for security reasons, or lose access work emails from those devices, the New York Times first reported. Some fear TikTok, owned by Beijing-based ByteDance, can be secretly subverted by the Chinese government to spy on the West.
After the email leaked, Amazon's spinners responded with the slightly ambiguous statement: "This morning's email to some of our employees was sent in error. There is no change to our policies right now with regard to TikTok."
The cynical among you may be thinking TikTok was already banned from work mobile devices, and will stay banned, and that the "error" was to suggest the policy was new. However, the now-retracted morning memo stated TikTok "was no longer permitted on mobile devices" though it could still be used from a work laptop. So what Amazon's trying to say now is that it was wrong to ban TikTok from mobile devices: its policy is that it's OK to use the software on phones used for work email. A second message was sent to staff informing them of the situation.
We also note Amazon Prime Video was advertising on TikTok as recently as April, so perhaps someone got trigger happy in IT and marketing revolted as they would lose access to their portal to the world's youth. Or perhaps Amazon did a 180 after the email leaked to avoid controversy. Or perhaps because it makes little sense to ban the application from phones but leave it on work PCs. Also, the policy hasn't changed right now though it may do in the near future?
Amazon declined to elaborate.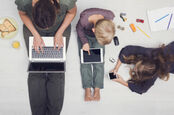 TikTok boom: Brits spent a quarter of their waking hours in lockdown online – Ofcom
READ MORE
"User security is of the utmost importance to TikTok – we are fully committed to respecting the privacy of our users," a TikTok spokesperson told El Reg. "While Amazon did not communicate to us before sending their email, and we still do not understand their concerns, we welcome a dialogue so we can address any issues they may have and enable their team to continue participating in our community.
"We're proud that tens of millions of Americans turn to TikTok for entertainment, inspiration, and connection, including many of the Amazon employees and contractors who have been on the frontlines of this pandemic."
Meanwhile, the US government believes the app, which has been downloaded more than a billion times worldwide, could be commandeered by the Chinese government to snoop on people. American soldiers were banned at the turn of the year from using TikTok after top brass branded it a "cyber threat." The US Secretary of State Mike Pompeo told Fox News this week the Trump administration is "certainly looking" at banning TikTok in the States, citing national security concerns.
Next, US bank Wells Fargo told its staff who installed TikTok on their work devices to remove the software for privacy and security reasons, The Information reports.
And finally, India's army this week directed troops to remove 89 social media and dating apps from their cellphones, including TikTok and Facebook – though bear in mind, India outlawed 59 Chinese apps last month, including TikTok. Chinese and Indian soldiers are clashing along the Line of Actual Control, a region that marks the borders of both countries, so that explains India's decision to banish the Chinese software. But what about Facebook?
"In view of the exponential increase in the number of cases being targeted by hostile intelligence agencies and existing vulnerabilities, the use of Facebook accounts by Army persons is banned," the Indian Army said, according to India TV News.
"Hence, the existing accounts are required to be deleted and not left deactivated. Any service persons found on Facebook/using banned sites post-July 15 will be reported." ®