All in all it's just another bork on the wall: For pity's sake, begs signage, climb onto the pub's roof and boot me up
(No don't. Don't do that. - Ed) Technology might be transient, but paint on bricks is forever
---
Bork!Bork!Bork! In the battle of new versus old in today's example of signage silage, the only winner appears to be Bork.
Snapped earlier this year in Wimbledon, southwest London, by Register reader Dragon Cotterill, today's bork has been affixed to the side of a building, casting its baleful gaze down onto the O'Neill's public house below. Perhaps somehow it knew that in a few short weeks, society as a whole would be just as borked as the screen.
The digital signage is a new addition to The Broadway, a 2km walk from the All England Lawn Tennis Club, where the only Grand Slam played on lawn has been postponed to 2021. An image from May 2019 on Google Maps shows a hulking static sign bolted to the brickwork, operated by self-proclaimed number one UK billboard owner, Primesight.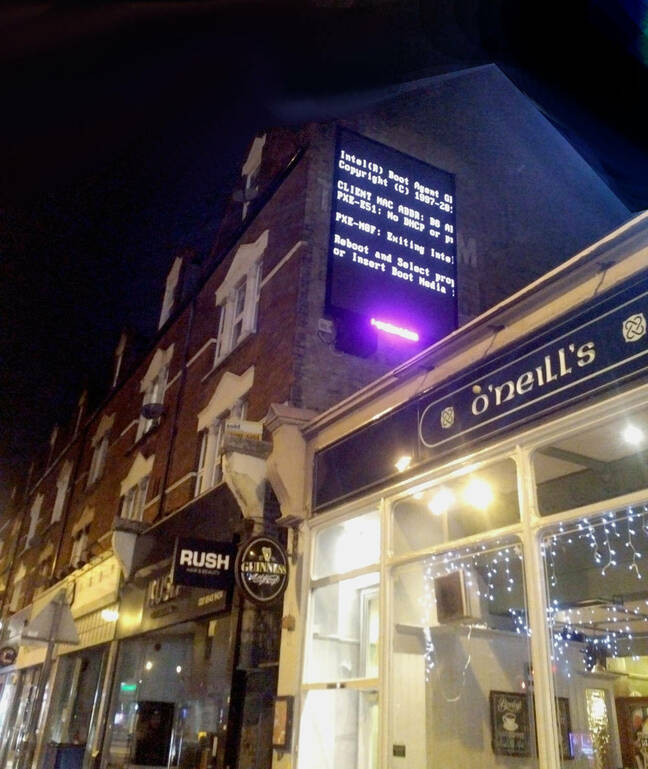 Click to enlarge
We fear that the replacement is very much of the number two variety.
While a good deal slimmer than its chunky predecessor, the new board is having a bad time of things. That PXE-E51 hints that something is amiss in the world of DHCP. Possibly the NIC is knackered or DHCP is simply not available. Not ideal when one is likely trying to boot some software off a network.
Then again, we can forgive much of chippery when its name is pronounced "Pixie".
In the absence of connectivity, the screen is exhorting passersby to pop in some boot media. Presumably by clambering up to the thing while wielding a handy floppy or USB stick. El Reg suspects O'Neill's might take a dim view of such activities - even after a few pints of sinew-stiffening stout.
While the display remains borked, its arrival has revealed intriguing hints of the history of Wimbledon's Broadway. Both in the Google Maps snap and the more recent bork pic, the brickwork to which the display has been affixed is still adorned by the faint shadow where san-serif all-caps lettering once was. Despite having spent a delightful hour or so trawling the archives, we've drawn a blank on what might be have been where Rush Hair is now.
An establishment that provided a service for "Ladies", "Gents" and "Children" for sure. Perhaps a clothing retailer? Please use the comments to speculate on what might be have been between the T and M.
Whatever it was, the proprietor of yesteryear could teach today's signage Queens and Kings a thing or two. Despite the passage of decades, the lettering remains visible... if it weren't for the Intel-based bork bolted to its face. ®
Similar topics
Narrower topics